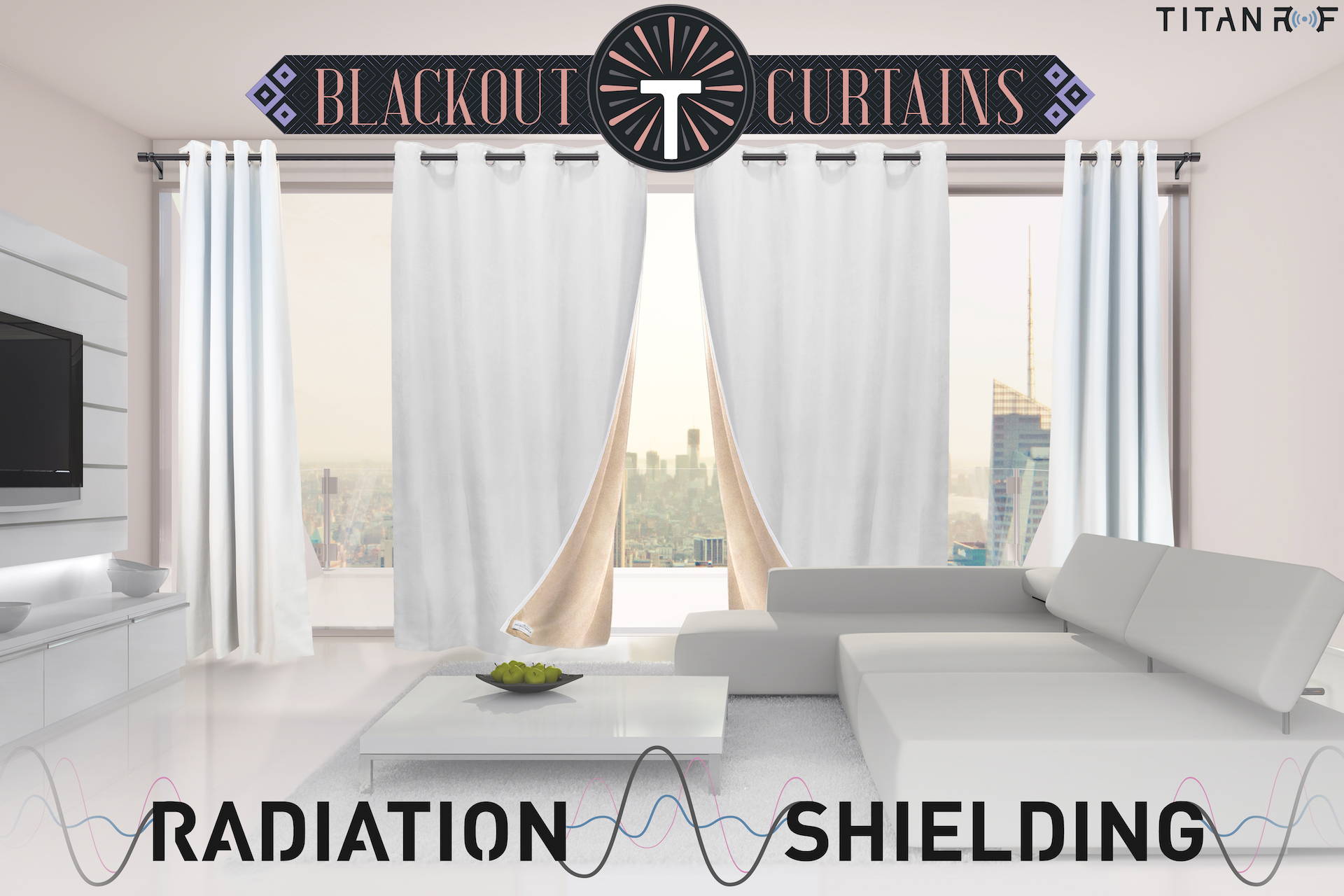 The Mission Darkness TitanRF™ Radiation Shielding Blackout Curtains combines quality materials and innovative radio frequency (RF) shielding technology. The main function of the curtains is to act as a barrier between the inside of your house and RF signals, such as harmful electromagnetic frequencies (EMF) coming from cell phone towers, smart meters, and other outside sources. To use, simply hang the curtains in your window, doorway, or desired location to reduce your exposure to radiation.
Additional benefits of the "blackout" curtains includes reduced light and noise, as well as increased privacy and energy savings, since they trap heat in during the winter and keep light and heat out during the summer. All of the features combined aim to offer a better night's sleep.
Built With TitanRF™ Faraday Fabric, Offering EMF Protection

On the back side of these curtains is a unique material called TitanRF™ Faraday Fabric. This fabric provides the electromagnetic shielding capability of the curtains, and we have included two layers for maximum protection. The high-shielding material is used by military worldwide to block signals, and is backed by extensive laboratory testing (view testing details below).
EMF shielding is a sharply debated topic. The truth is that the long-term effects of high frequency signal exposure, from sources such as 5G radiation, are still unknown because the general public has not been exposed to these types of frequencies for long periods of time. This is why so many people are incorporating shielded curtains, clothing, rooms, etc., into their lives—they would rather be safe than sorry.
We are doing our part to offer shielded solutions for this preventative measure. You cannot always control the electromagnetic frequency signals you come into contact with, but you can use barriers like shielded curtains to reduce your exposure at home.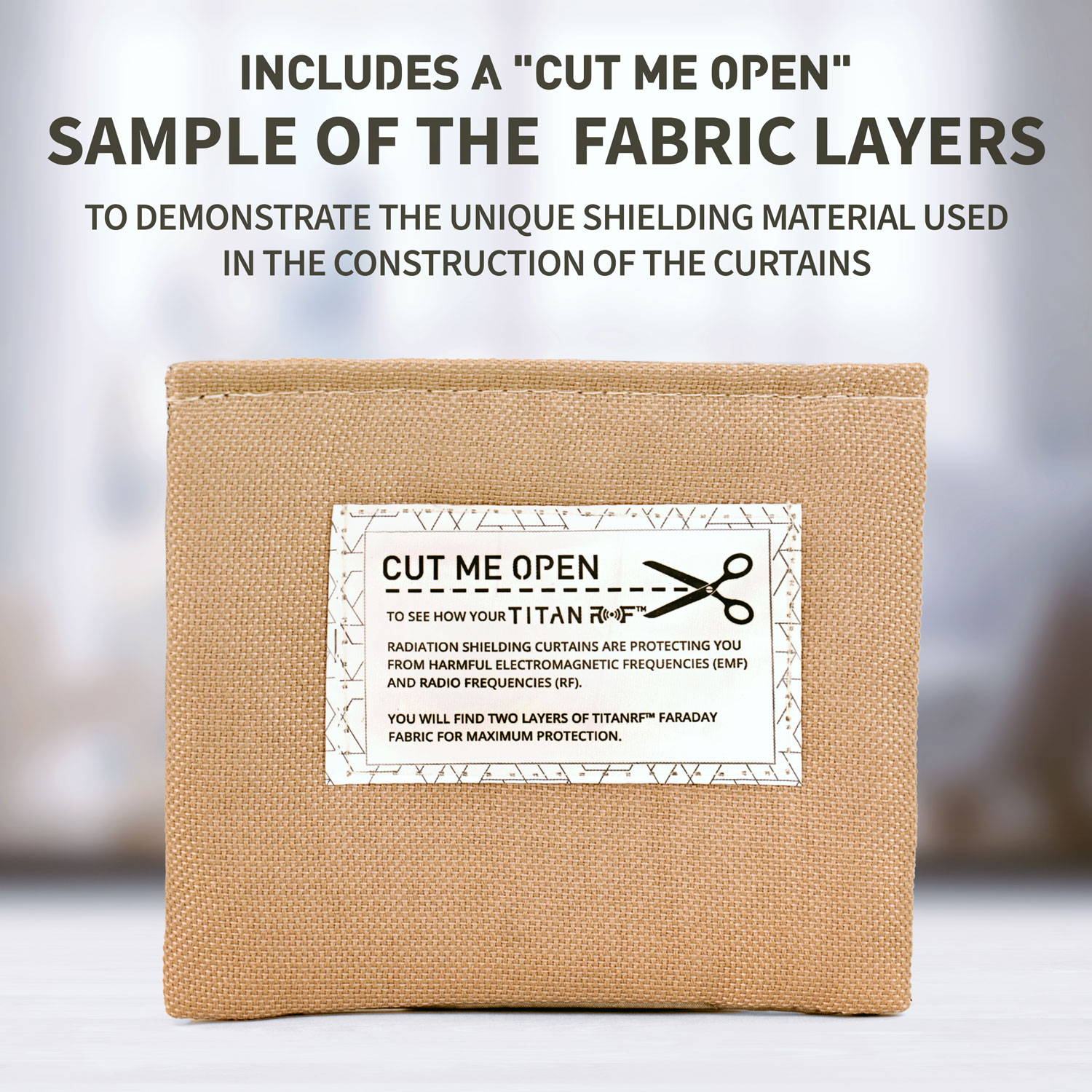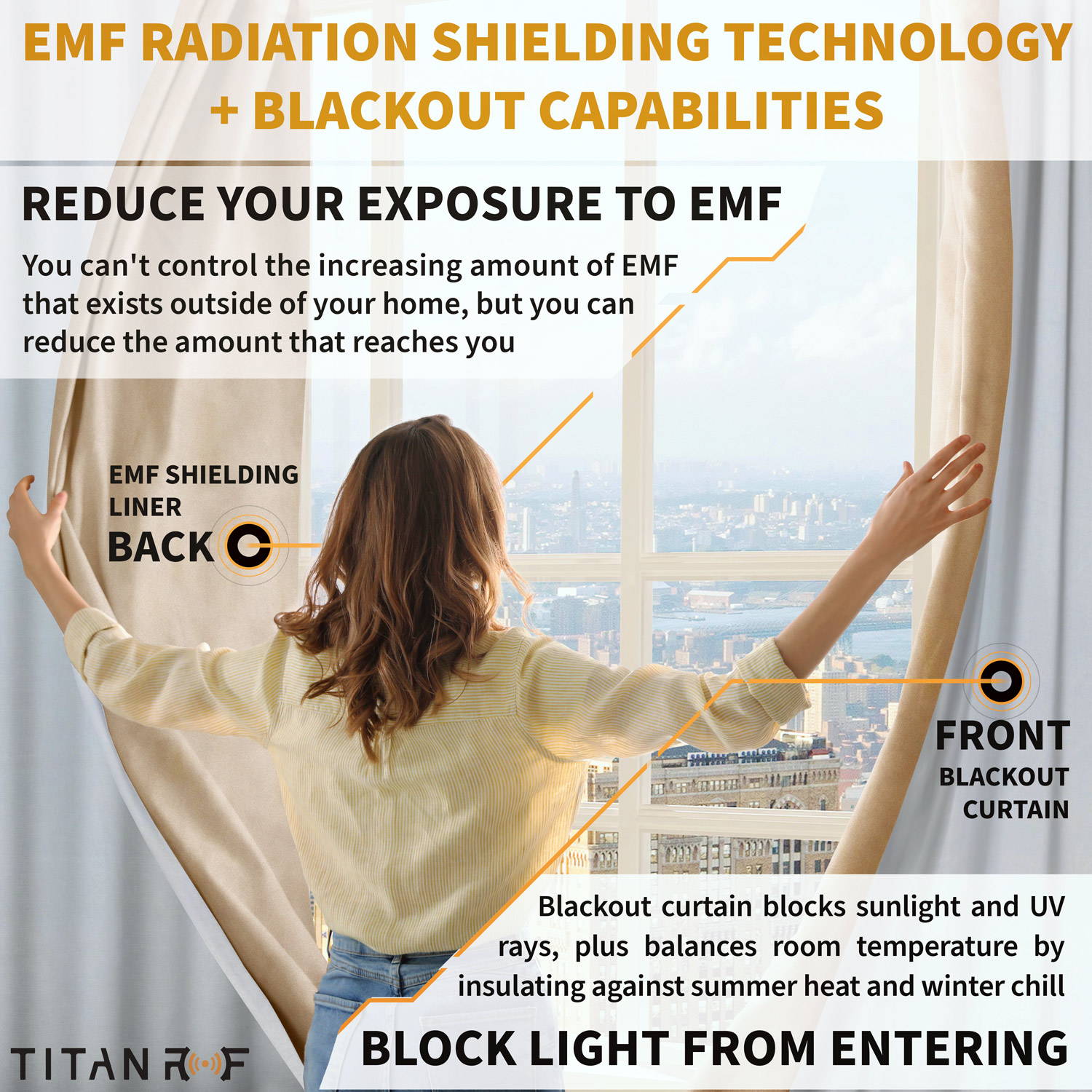 Multifunctional curtain set combines EMF radiation shielding technology with light-blocking "blackout" capabilities
Two panels included in each package, multiple size and color options available (choose from the drop-down menu)
Radio frequency shielding liner made with TitanRF™ Faraday Fabric prevents low and high-frequency electromagnetic radiation from penetrating
Discreet window facing shielding liner cannot be seen from the room facing view
Blackout fabric layer with high-density black thread blocks sunlight and UV rays
Protects furniture, floor, and artwork from sun exposure
Energy efficient and thermal insulated (reduces outside light, noise, summer heat, and winter cold effectively)
Metal grommet rings across top rim; 1.6" (4cm) interior diameter fits all standard curtain rods
Easy to install—simply hang the curtains in your window, doorway, or desired location to reduce your exposure to radiation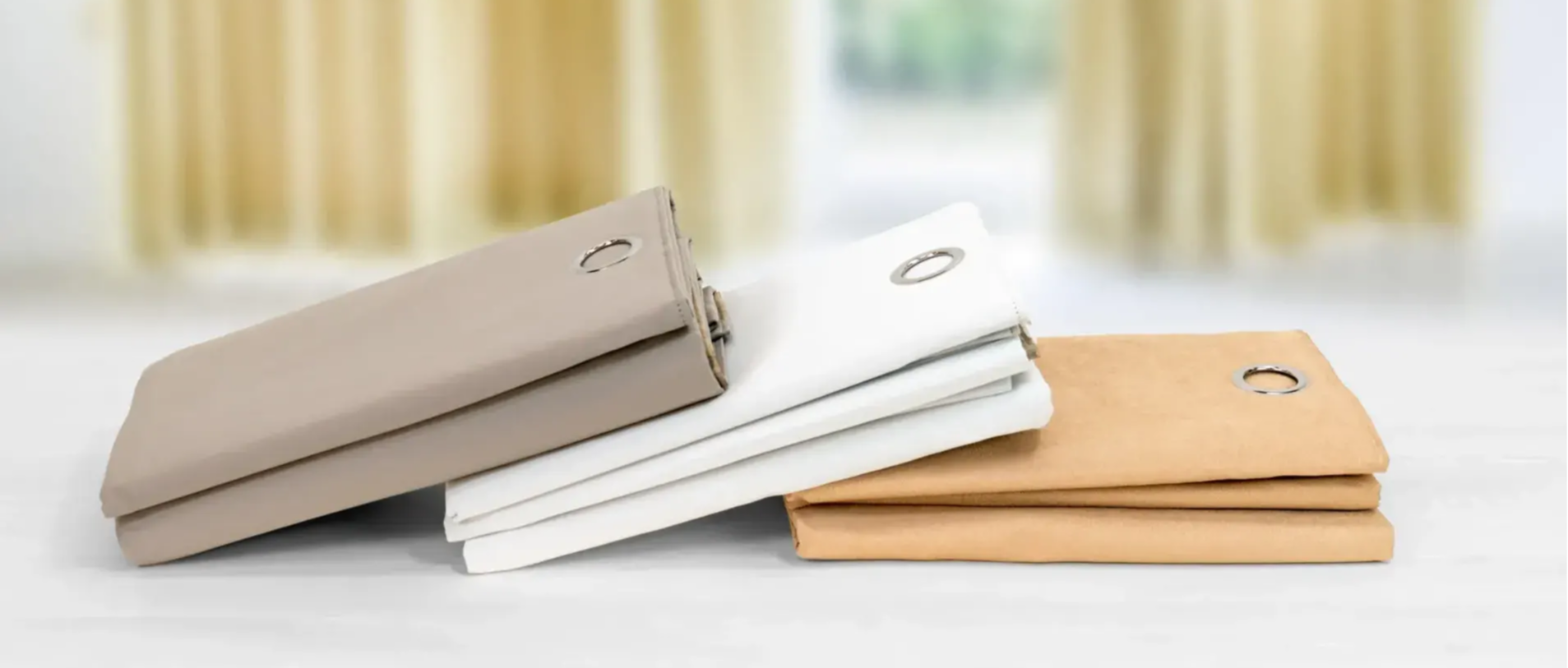 Short Panel Dimensions: 63"L x 42"W (160cm x 107cm)
*Two panels included in each package — total coverage is 63"L x 84"W (160cm x 213cm)

Long Panel - 84"L x 52"W (213cm x 132cm)
*Two panels included in each package — total coverage is 84"L x 104"W (213cm x 264cm)
Multilayered Shielding System Built With TitanRF™ Faraday Fabric

High-density black thread with coating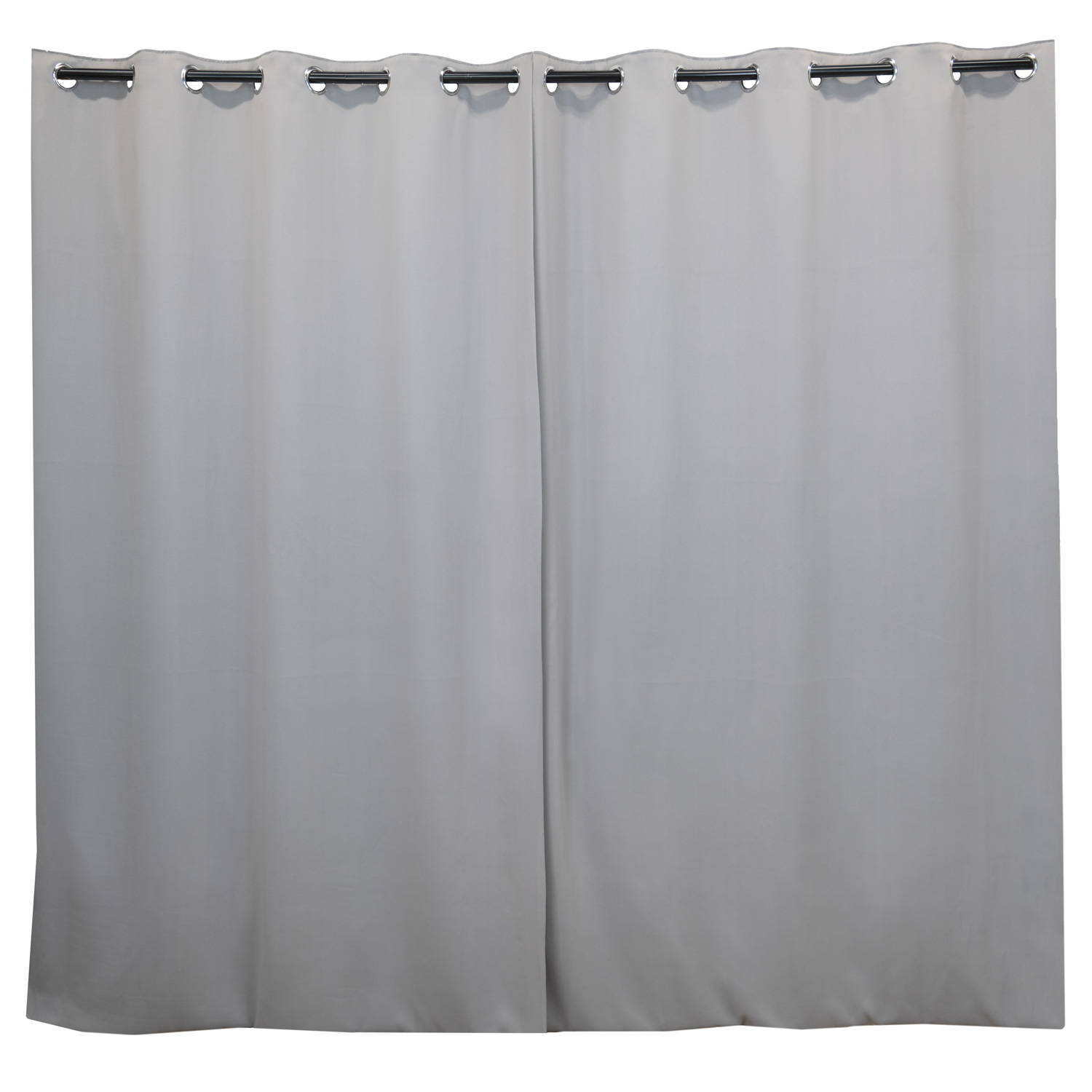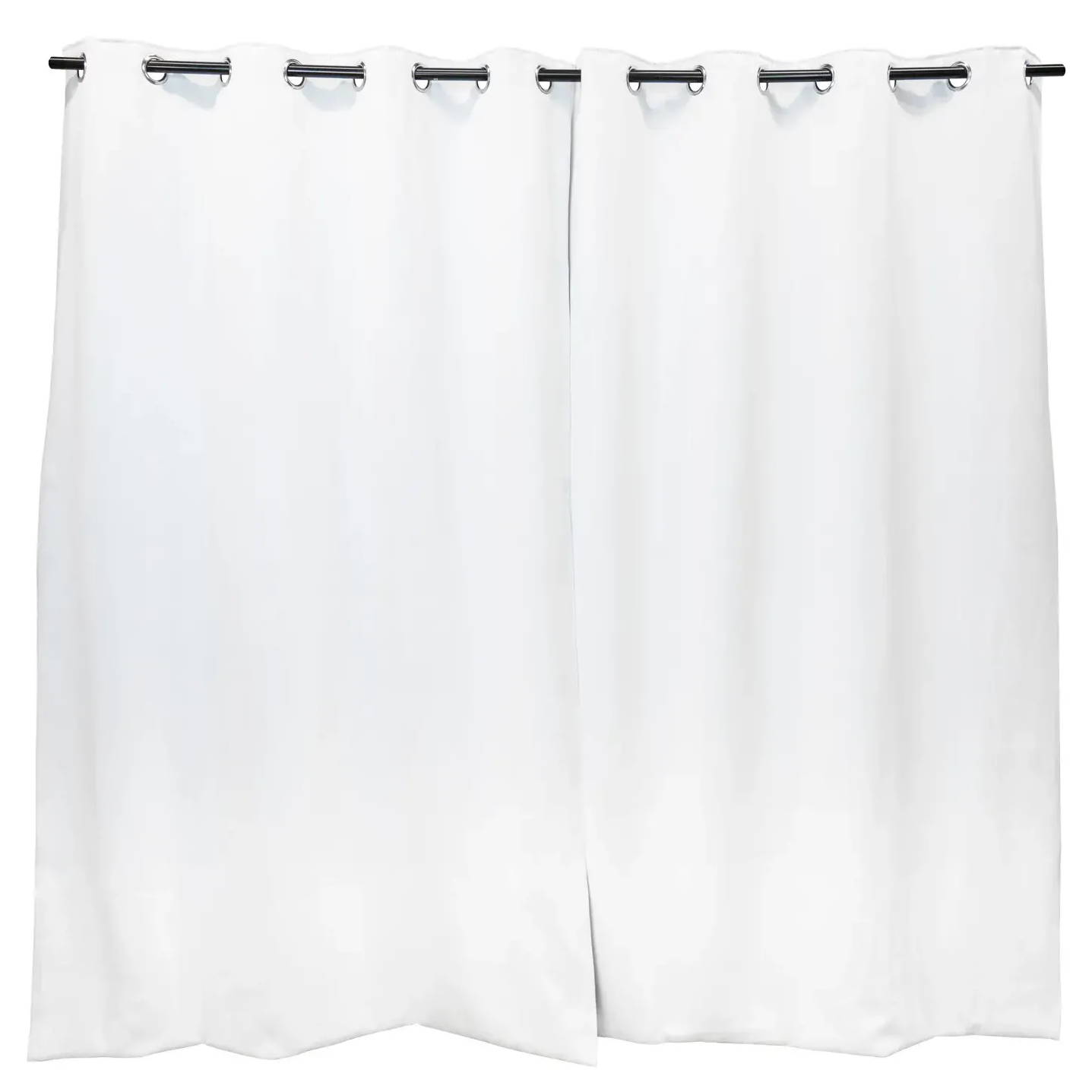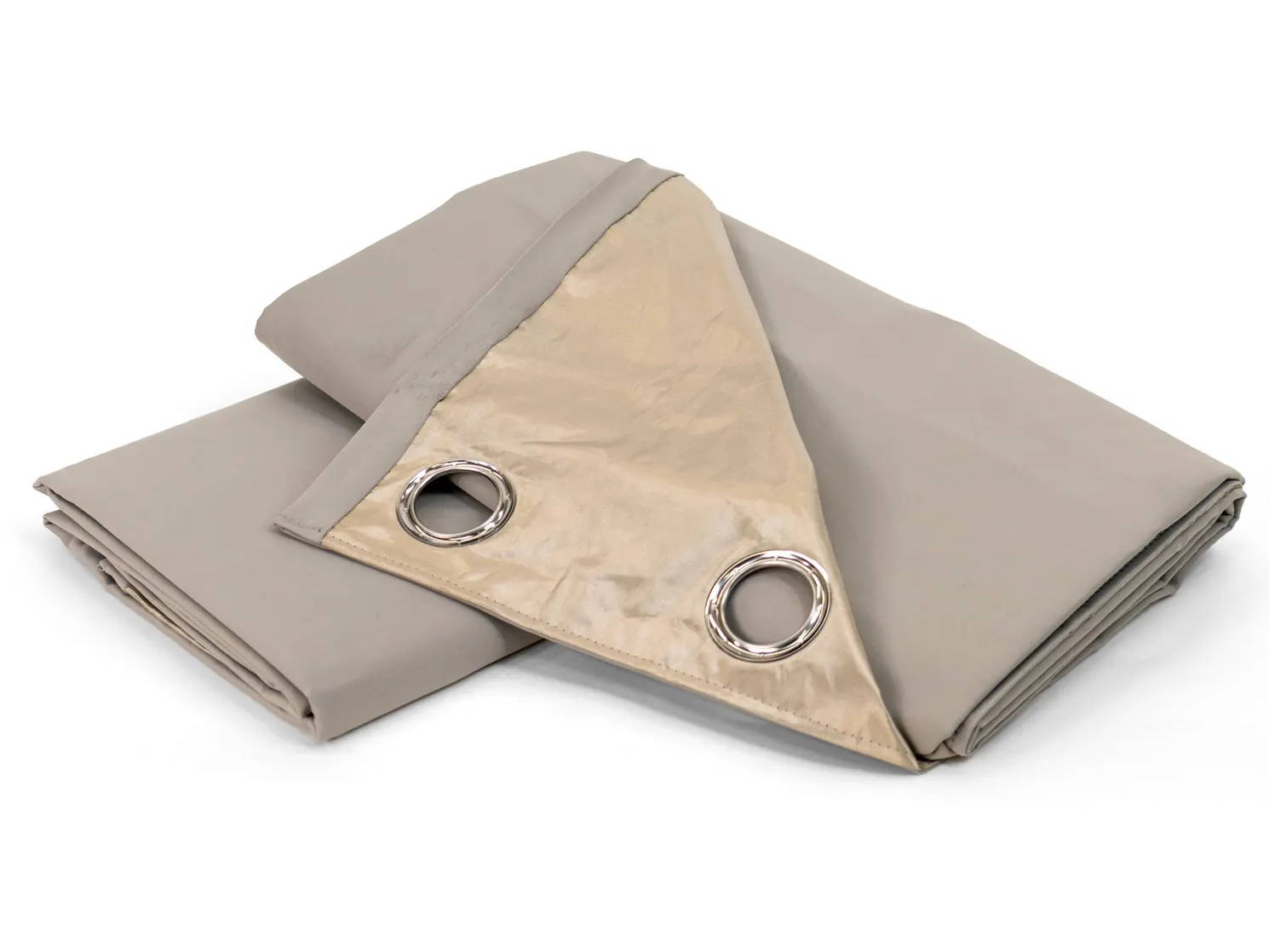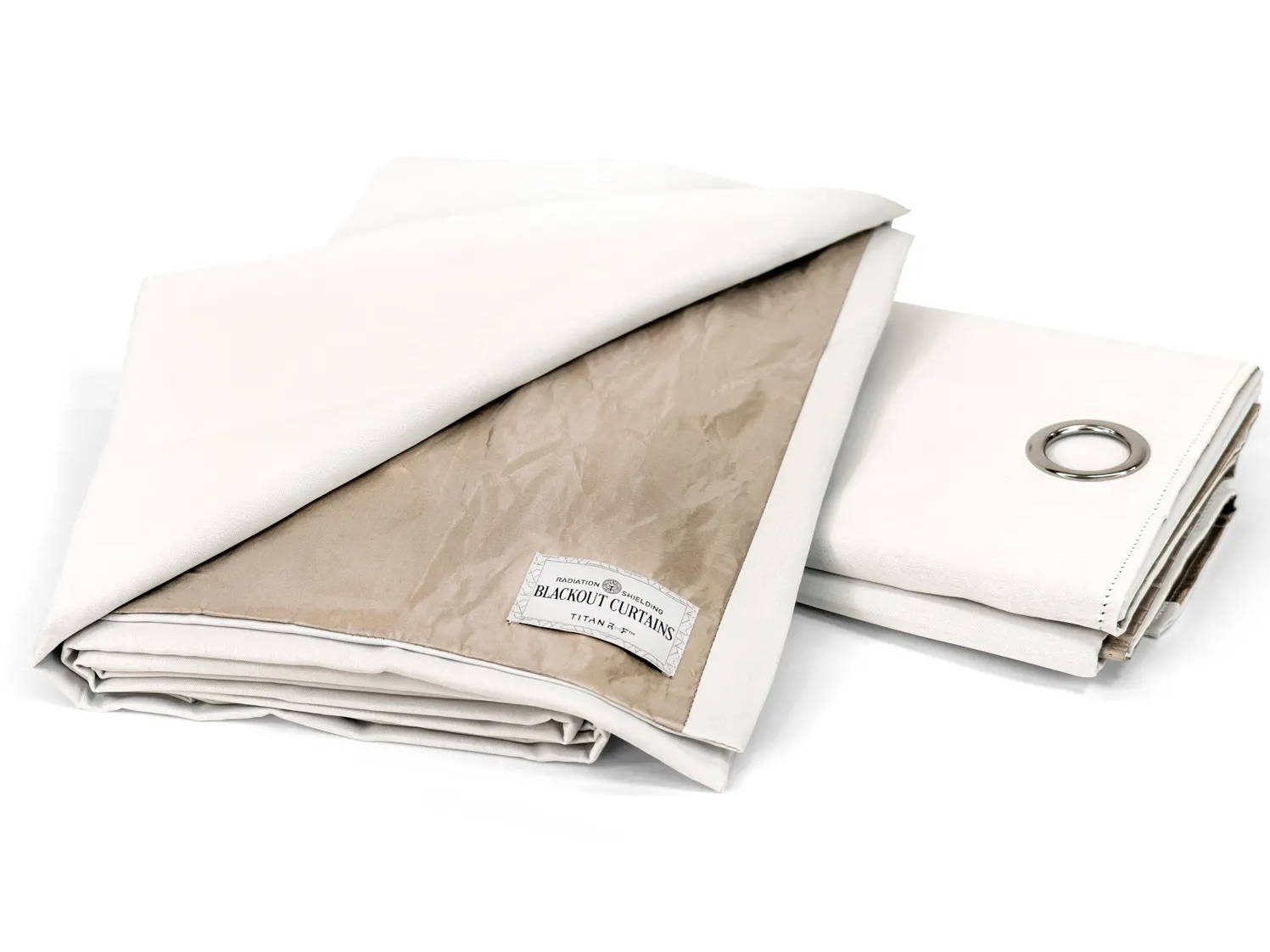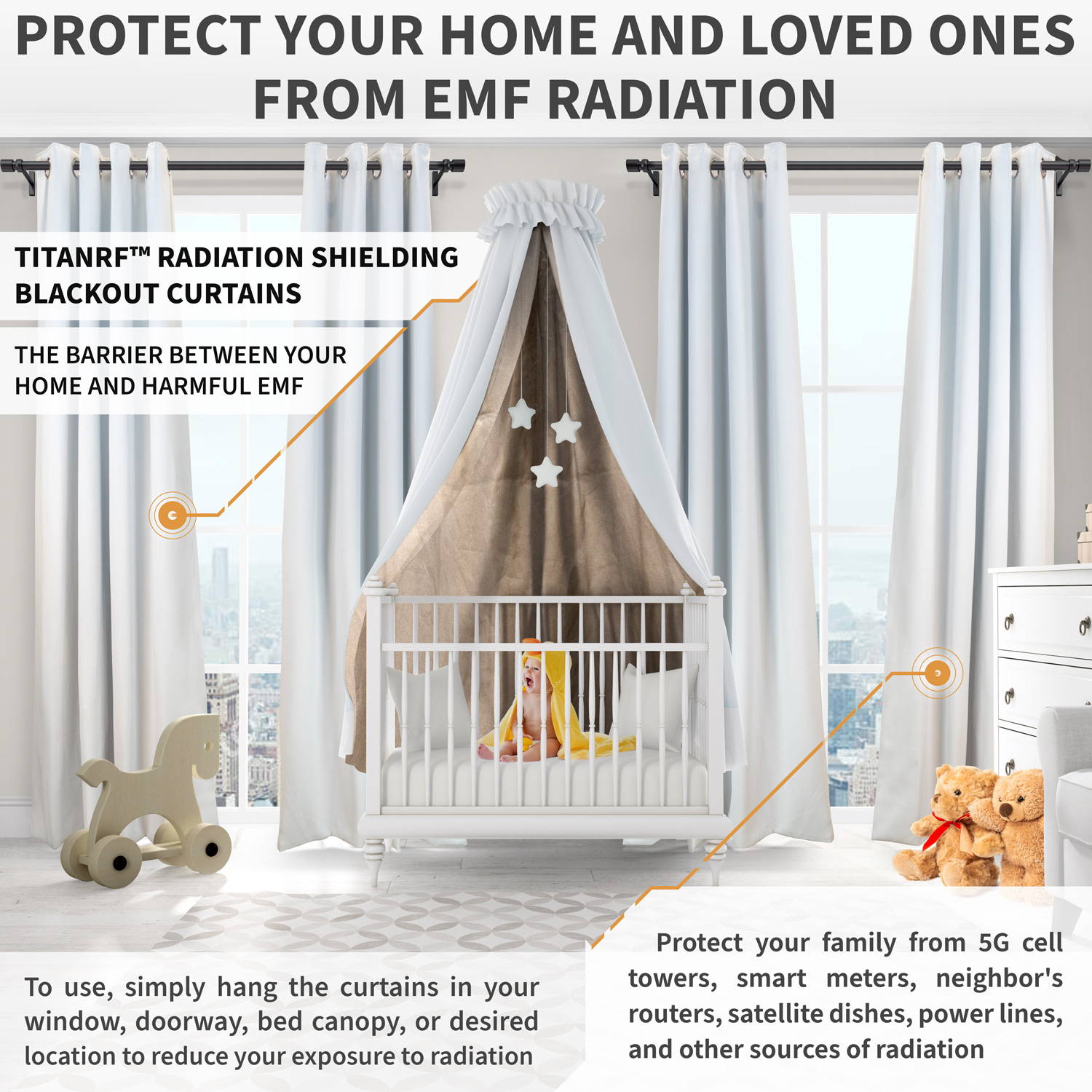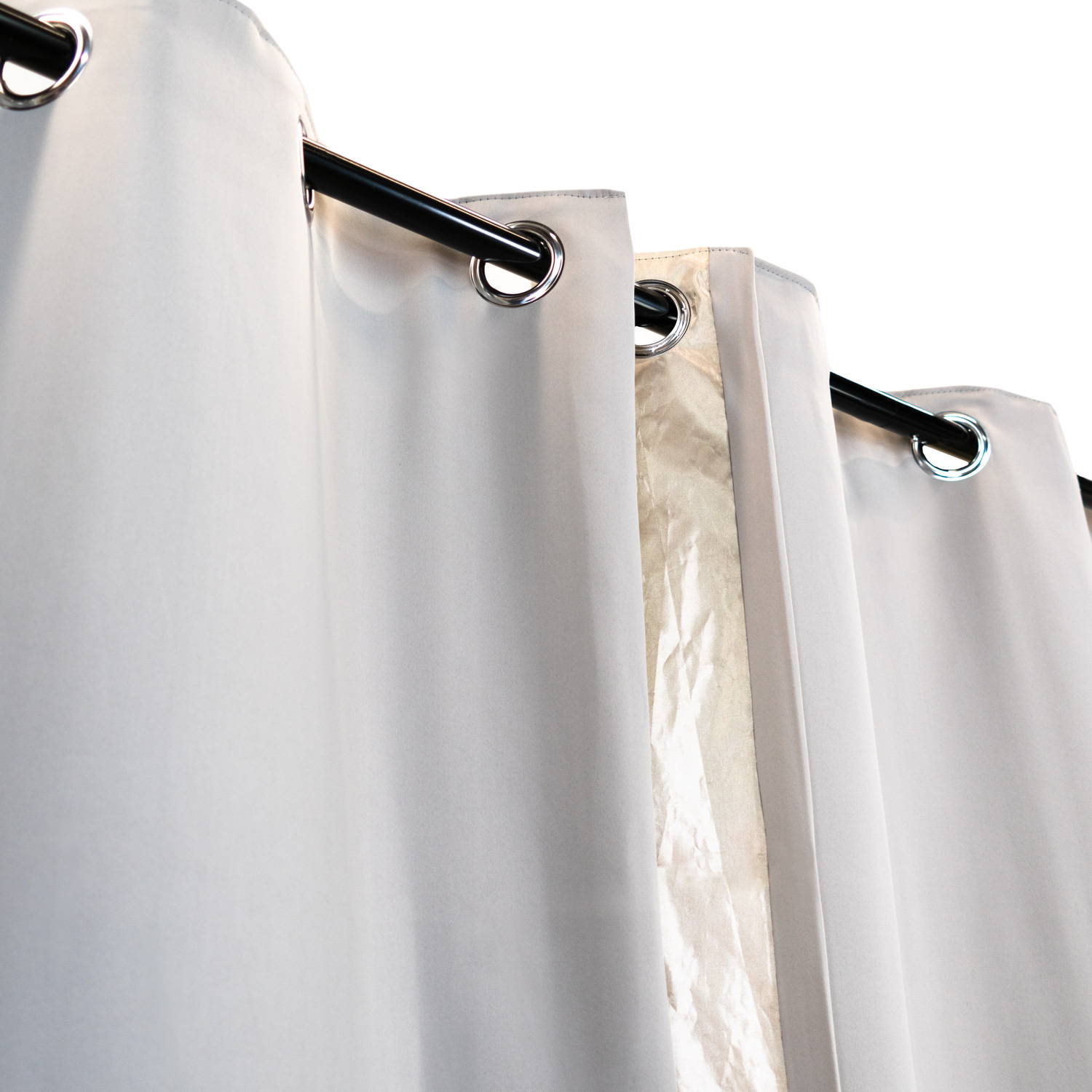 Luxurious 100% polyester material shows on the room facing side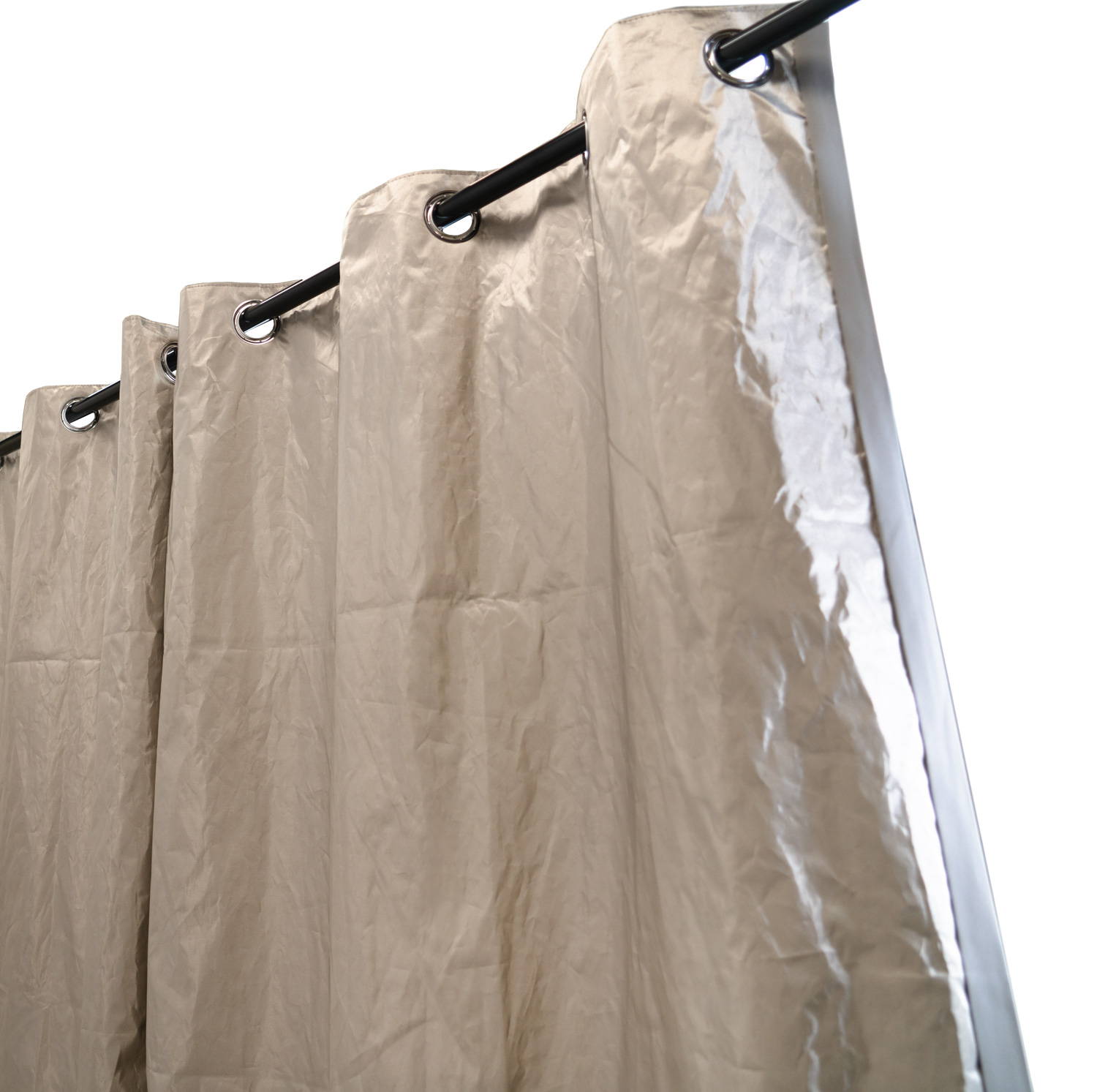 Signal blocking TitanRF™ Faraday Fabric lines the window facing layer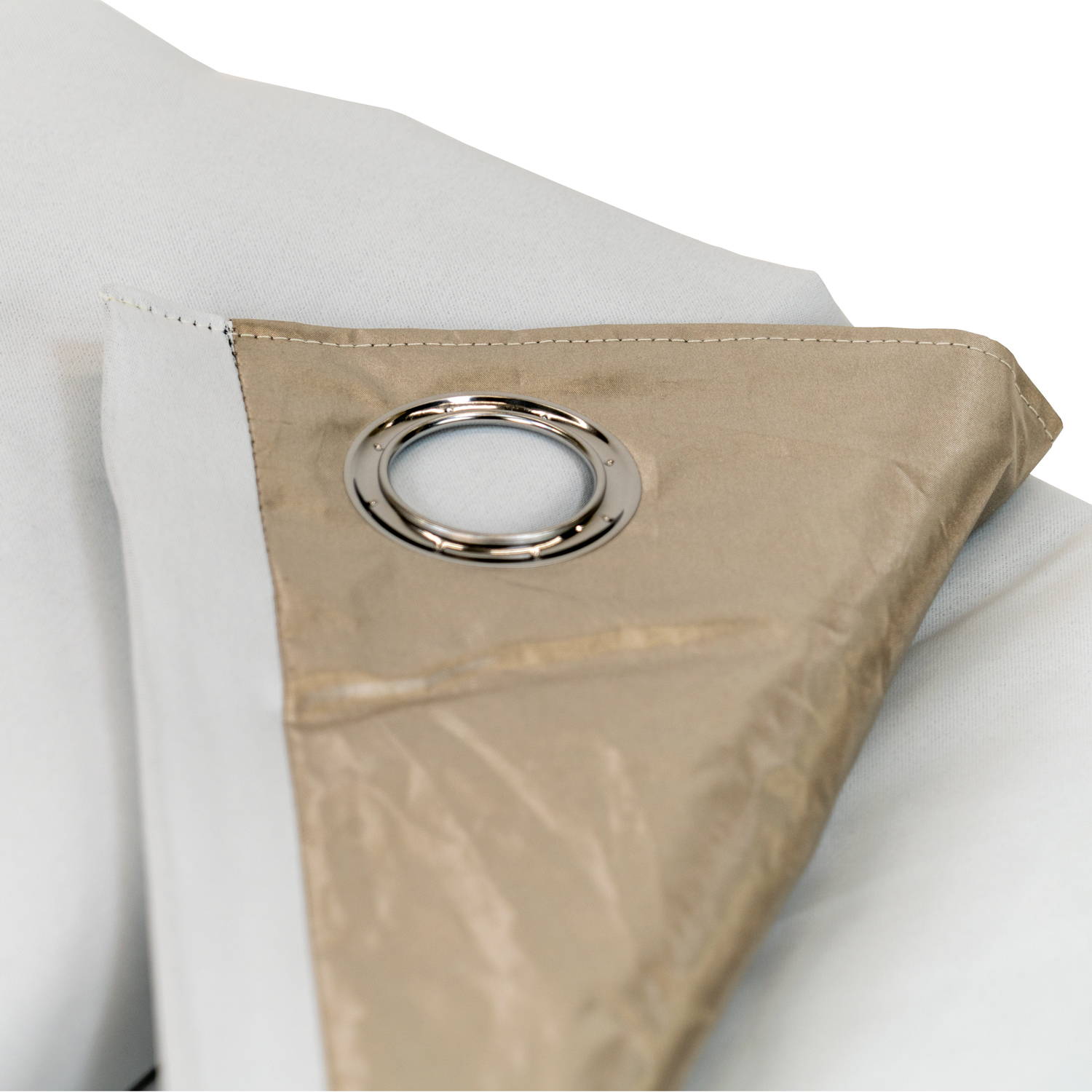 High-quality stainless steel grommets along the top rim
Two curtain panels included in each set (multiple sizes available)
It is important to provide concrete proof into the shielding effectiveness of these curtains. To ensure that the curtains perform extremely well at protecting against EMF, we had the TitanRF™ Faraday Fabric layer of the curtains tested and certified by an accredited laboratory. A large faraday cage in a highly controlled environment is used to perform this testing, with commercial grade signal analyzers. A summary of our lab testing is shown on the graph below, while the full shielding effectiveness testing report can be viewed at mosequipment.com/pages/compliance-testing.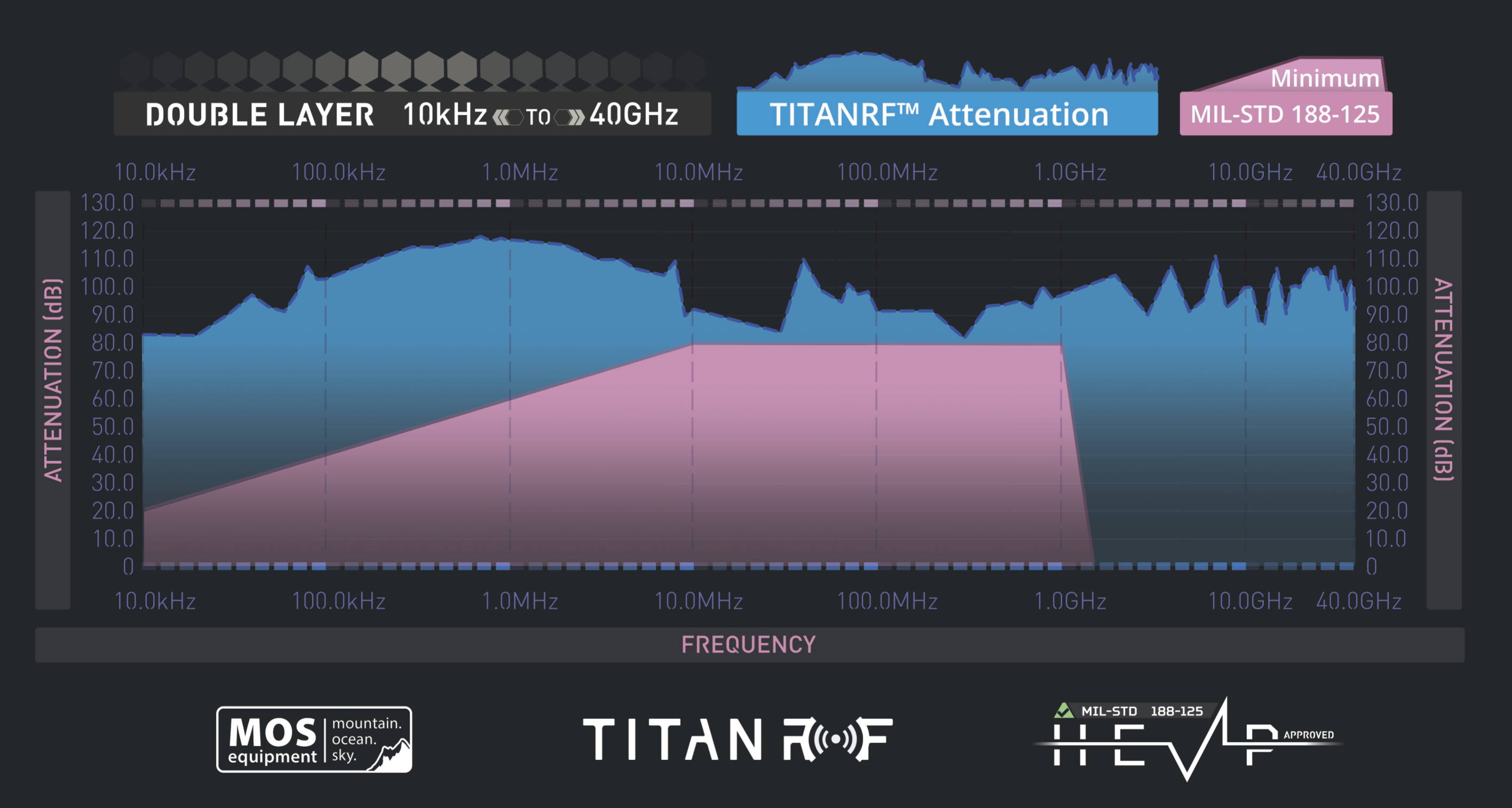 TitanRF™ Faraday Fabric Testing Explained
PLEASE NOTE: In order to test the shielding effectiveness of the TitanRF™ Faraday Fabric, you would need a full faraday cage built out of the material and a verified testing app or signal analyzer to get accurate shielding results. We do not recommend using at-home RF/EMF meters (such as Trifield TF2, Acoustimeter AM-10, Cornet ED88T) as a valid test method for EMF-reducing products because they are only good at detecting large shifts in the RF environment, which is not entirely accurate for testing the shielding effectiveness of a product like these curtains.
Testing the curtain's effectiveness of blocking EMF within your home would require the removal of all sources (such as your router, smart meter, cell phone, laptop, refrigerator, microwave, and everything else), which is simply not possible. For example, if you were to hold your RF meter close to the device you are trying to measure radiation from, you would still receive radiation from all other electronic equipment around you inside your home. This is why we had our faraday fabric tested in a controlled lab environment.
*IF you do still want to use an RF meter, place the meter between the curtain layers to observe signal blockage. Make sure the meter is on the RF setting.
Video Demonstration of an RF Meter Testing the Curtains
Mission Darkness™ offers a growing line of radiation shielding apparel and home interior products that act as a barrier between your body and harmful electromagnetic frequencies (EMF) and radio frequencies (RF) inside your home, office, and public places, such as those coming from cell phones, laptops, Wi-Fi routers, smart meters, 5G cell towers, and additional sources. View the complete collection below.