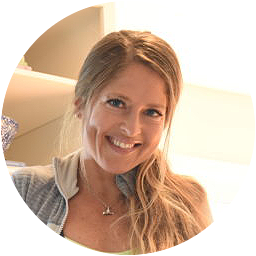 I'm not a giant hand-bag girl.
I'm a backpack girl. A catch-all that I leave for the day and have all my odds and ends.
And as a wellness advocate, health is always the driving force around anything I use daily.
Written By: Jodelle Fitzwater
And I love that now I can do it with a backpack that protects my body and my privacy!
But first, what does a nutritionist and fitness coach need for the day?
• Water bottle
• Snacks (usually oven-baked pork rinds and jicama sticks)
• Laptop & Charger
• Podcasting headphones
• Bum cover (if I wear leggings to teach classes, and need to run errands after
class, I like to modestly cover my bum)
• EMF Shielded earbuds for client calls
• NAD+ supplement for extreme mental energy for my day
• EMF shielding Cape for long couple of hours at my computer doing consults
• A TRX suspension strap...never know when you might want to squeeze in some mobility or a workout.
• Day planner and notebook for note-taking and to-do lists
• My Bible for when I get a moment to sit outside and read
• Natural deodorant for after a sweaty workout class
---
Yep, it's all in the bag, baby. But what kind of backpack do I rely on? Not just one that holds all my daily needs but one that protects me and all my essentials.
It's called the Mission Darkness FreeRoam Faraday Backpack. How does it protect me?

This backpack is made with high quality EMF shielding fabric layered on the inside that acts as a faraday cage protecting me and my delicate organs from my cellphone if I have it in the bag, as well as privacy from hackers if my laptop is in the bag.
---
What do I love about the bag?
⁃ The smooth sleek feel of it, and buttery soft water-resistant material great
for running around on rainy days and for my paddle adventures.
⁃ The super light weight feel of it, even with all my daily needs inside
⁃ The padded laptop sleeve that keeps my laptop protected
⁃ The straps that turn into a leg so you can set the pack upright
⁃ The tight and secure seal of the magnetic closure that allows consistent blocking from tracing technology.
⁃ The ability to throw my key fob in and be protected from that and my cellphone as well. (It's pretty amazing how much radiation comes off a key fob in your pocket).
⁃ I also love that my credit cards and personal information cannot be traced when securely inside the backpack.
---
If I only I myself could crawl into the bag to avoid the new 5G, wifi and bluetooth everywhere, and constant emf exposure we experience in today's modern world! I highly recommend this pack both for the convenience and ease of travel with it, but also for the protection and security it provides. Your health is your greatest wealth, and it's not just about the food we put in but also our environment and what we are exposed to.
Check out the Mission Darkness FreeRoam Faraday Backpack and for being a reader of my blog, please enjoy a 5% discount when you use code: JODELLE
https://mosequipment.com/?ref=cGFWJ1