PLEASE NOTE: Current lead time is 1-3 weeks.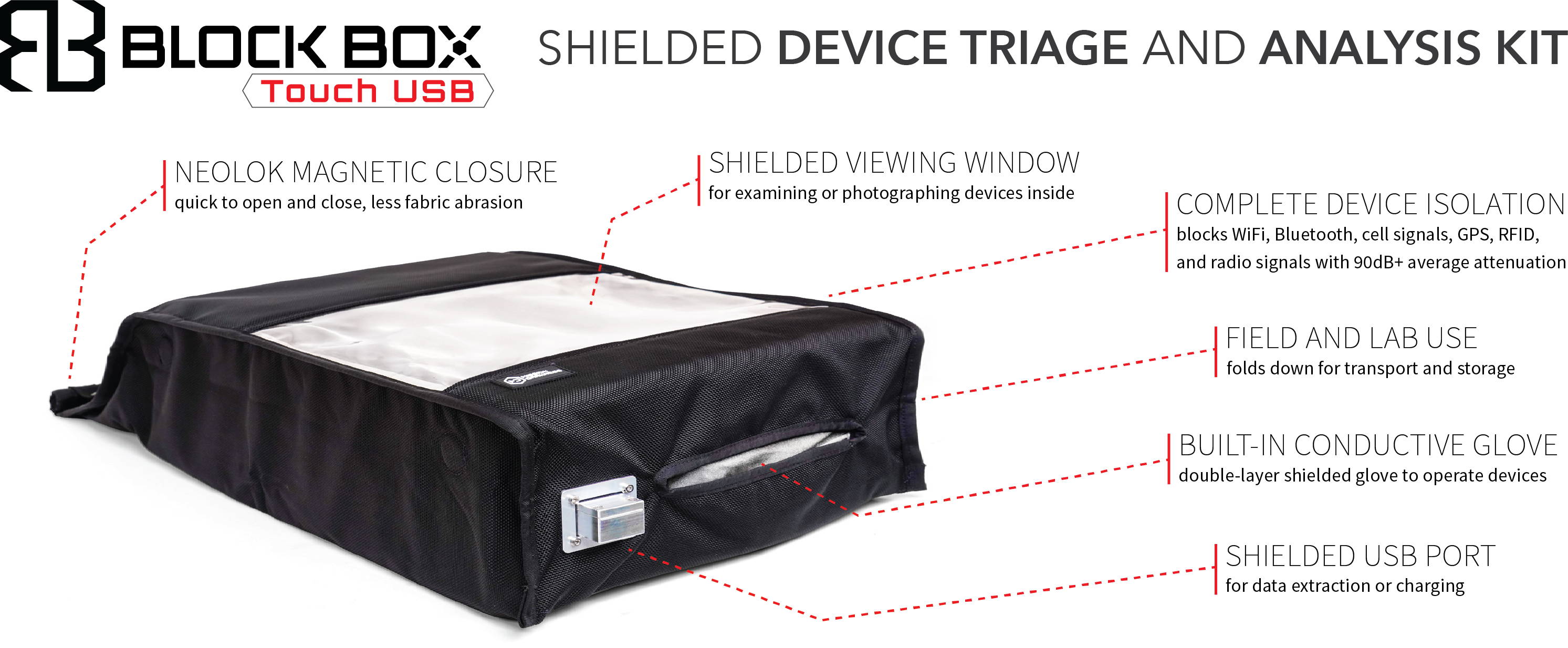 Operate Devices and Extract Information Over USB While Shielded From RF Signals

The Mission Darkness™ BlockBox Touch USB is a collapsible faraday enclosure with a built-in conductive glove, device preview window, large interior space, and USB port allowing the operator to access and extract data on scene, as well as connect to a charging source. Designed specifically for law enforcement and military forensic investigators, the BlockBox Touch USB allows users to operate touch screens in order to conduct cell phone and tablet triage, analysis, and extraction while keeping devices shielded inside. With the high-speed USB filter, time-sensitive data can be extracted in hours, not days. Additionally, being able to keep devices charged indefinitely prevents lockout mode and reduces the amount of time needed to break a passcode, enabling the maximum amount of data extraction and unlocking with tools like GrayKey, Cellebrite, XRY, BlackBag, Oxygen, etc.
The BlockBox Touch USB is built with padded side walls and water-resistant ballistic nylon outer material to ensure that devices and faraday fabric stay protected. The interior faraday chamber includes two layers of high-shielding TitanRF™ Faraday Fabric on all sides with dual paired seam construction. The faraday chamber will block all wireless signals including WiFi (2.4 & 5GHz), Bluetooth, cell signals including 5G networks, GPS, RFID, NFC, and radio signals from low MHz to 40GHz.
The faraday chamber uses a NeoLok™ closure system, allowing an operator to effortlessly close the faraday chamber by way of a double roll and strong neodymium magnetic seal holding the roll in place. A quick-snap strap over the roll provides extra security, which is especially useful if transporting shielded devices inside to various locations, such as from the collection site to the lab. This type of closure is preferred for forensic use since the faraday chamber can be opened easily with a glove. The magnetic closure increases the product's overall longevity, compared to faraday enclosures built with Velcro which can damage gloves and wear out with frequent use due to "hard pulling" on the closure area.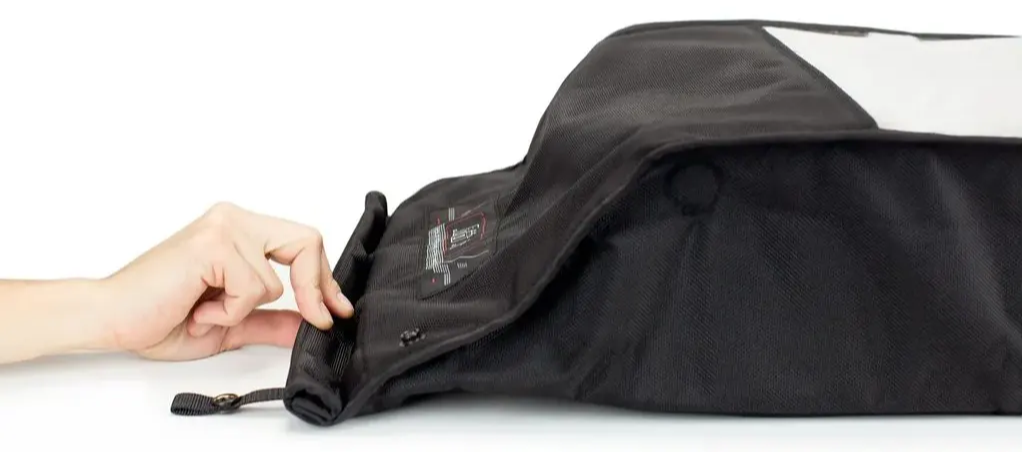 The kit includes a high-quality Cable Set (including a universal angle USB A/M to A/M, lightning to USB, micro USB, USB-C, and USB extension), usage instructions, a signal-dampening foam block (which provides a platform to take photos of devices, as well as additional shielding in high-signal strength environments), a stylus, and a slim carrying case to hold the accessories and collapsed BlockBox Touch USB. The kit can be transported in a backpack or small bag, making it the perfect analysis enclosure for lab and field operations.
Military-grade soft-sided analysis enclosure designed for law enforcement forensic investigators and armed services to operate, interrogate, and conduct device triage at any location while shielded from RF signals
Built-in double layer conductive glove allows shielded touch screen device operation
Wide opening accommodates any size tablet, cell phone, or similar size device
Large transparent window for viewing devices
Two layers of high-shielding TitanRF Faraday Fabric on all interior sides with dual paired seam construction (TitanRF Faraday Fabric is lab tested and certified to shielding effectiveness standards MIL STD 188-125 and IEEE 299-2006)
Shielded dual sided USB filter for high-speed data extraction and long-term charging
Indefinite power capabilities prevent lockout mode and reduce the amount of time needed to break a passcode, enabling the maximum amount of data extraction and unlocking with tools like GrayKey, Cellebrite, XRY, BlackBag, Oxygen, etc.
Blocks WiFi (2.4 & 5GHz), Bluetooth, cell signals including 5G networks, GPS, RFID, NFC, and radio signals from low MHz to 40GHz
EMI, EMR, and EMF shielding
NeoLok closure system consisting of a double roll with a magnetic seal, plus additional quick-snap closure strap for ultimate security and signal blockage

Water-resistant ballistic nylon outer materials

Collapses into a compact size and comes with a slim carrying case to hold the analysis enclosure and accessories
Devices can remain shielded inside the closed faraday chamber during transport

Closable transparent pocket on back to place company information

Removable signal-dampening foam block (for increased shielding in high-signal-strength environments, also serves as a platform for analyzing or taking photos of devices inside)
Unique serial number for asset tracking
Made in the USA
Easily Add Department/Agency Info

Mission Darkness faraday bags and BlockBox Touch analysis enclosures have a transparent pocket on the back to place a business card or more permanent sticker. There is no need to silkscreen your department information on the bag. If you would like a permanent way to custom brand items, we can add woven labels during production. Please contact us to discuss options
Components Included in Each Kit

Mission Darkness BlockBox Touch USB
Slim carrying case with a handle and two interior zipper pockets
Cable Set (each set includes a universal angle USB A/M to A/M, lightning to USB, micro USB, USB-C, and USB extension)
Signal-dampening foam block
Branding and evidence card pocket
Unique serial number card
Stylus
Usage instructions
Additional add-on accessories are listed below; options include dual USB port car and wall chargers, portable power banks, and additional cables
Internal usable dimensions: 17" x 13" x 6"
Carrying case measures 11" x 14" x 2" when packed with all items included in the kit
Lab forensic analysis
State, local, federal, and military forensics
Military grab-and-go missions
Federal search and seizure warrants
Anti-hacking, anti-tracking, and anti-spying assurance
Counter-surveillance
EMP and CME protection
Mobile device testing
Signal isolation
USB Filter & Cable Details

The shielded USB filter enables dual sided device connectivity, allowing a device to be charged or have data extracted while remaining isolated from RF signals.
The kit includes a USB extension cable that connects to the inside of the USB filter. This makes it easy to connect a device internally using a compatible USB cable tip (a variety of commonly used cable tips are included). The included USB A/M to A/M cable can be used on the external side of the filter to connect to a power source or extraction tool.
*If you are using your own cables (not ones we provided in the kit), be aware that all cables used to connect to the USB filter both internally and externally need to be SHIELDED.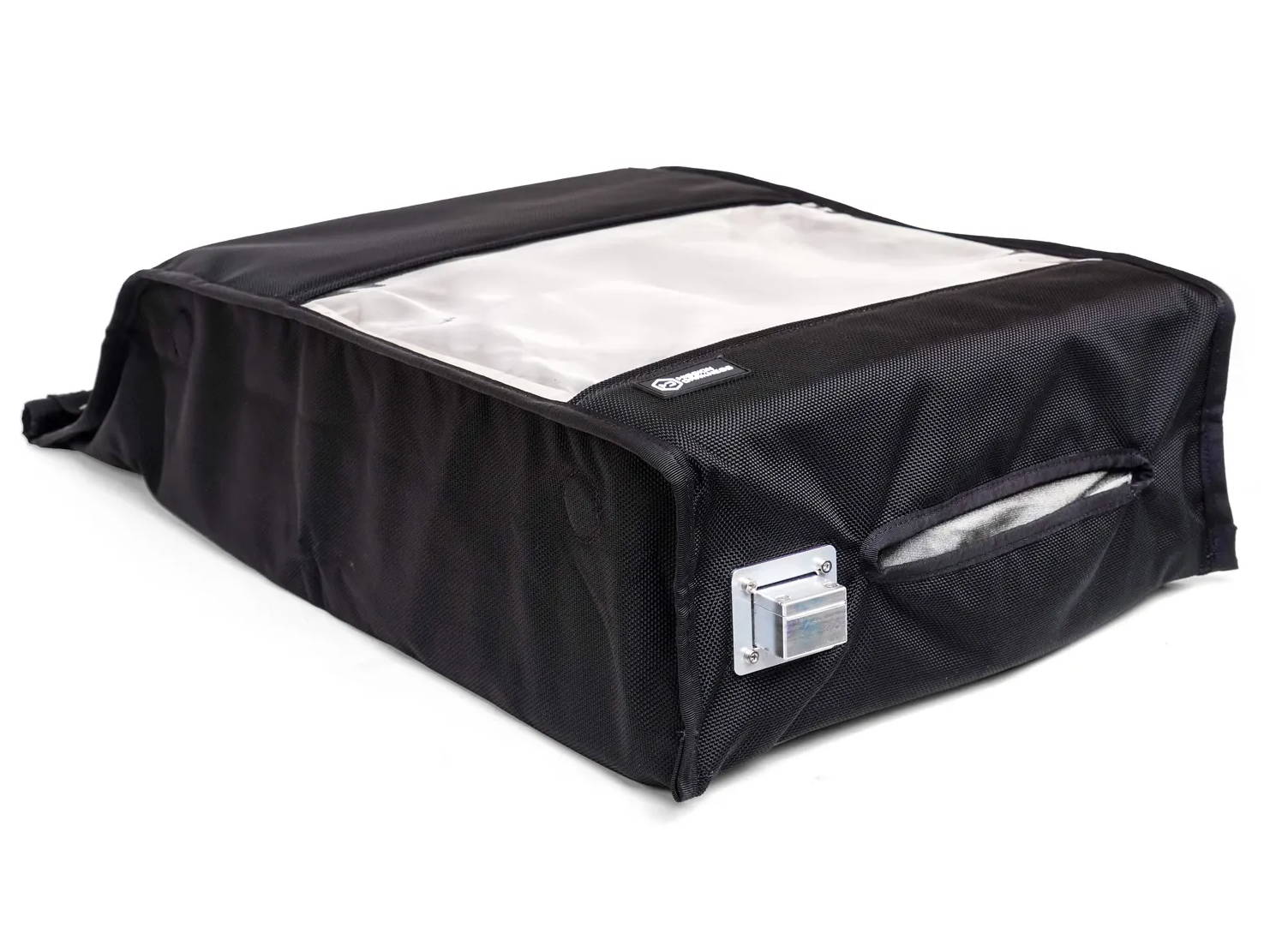 Soft-sided and portable analysis enclosure can be taken to any location for device operation, interrogation, and triage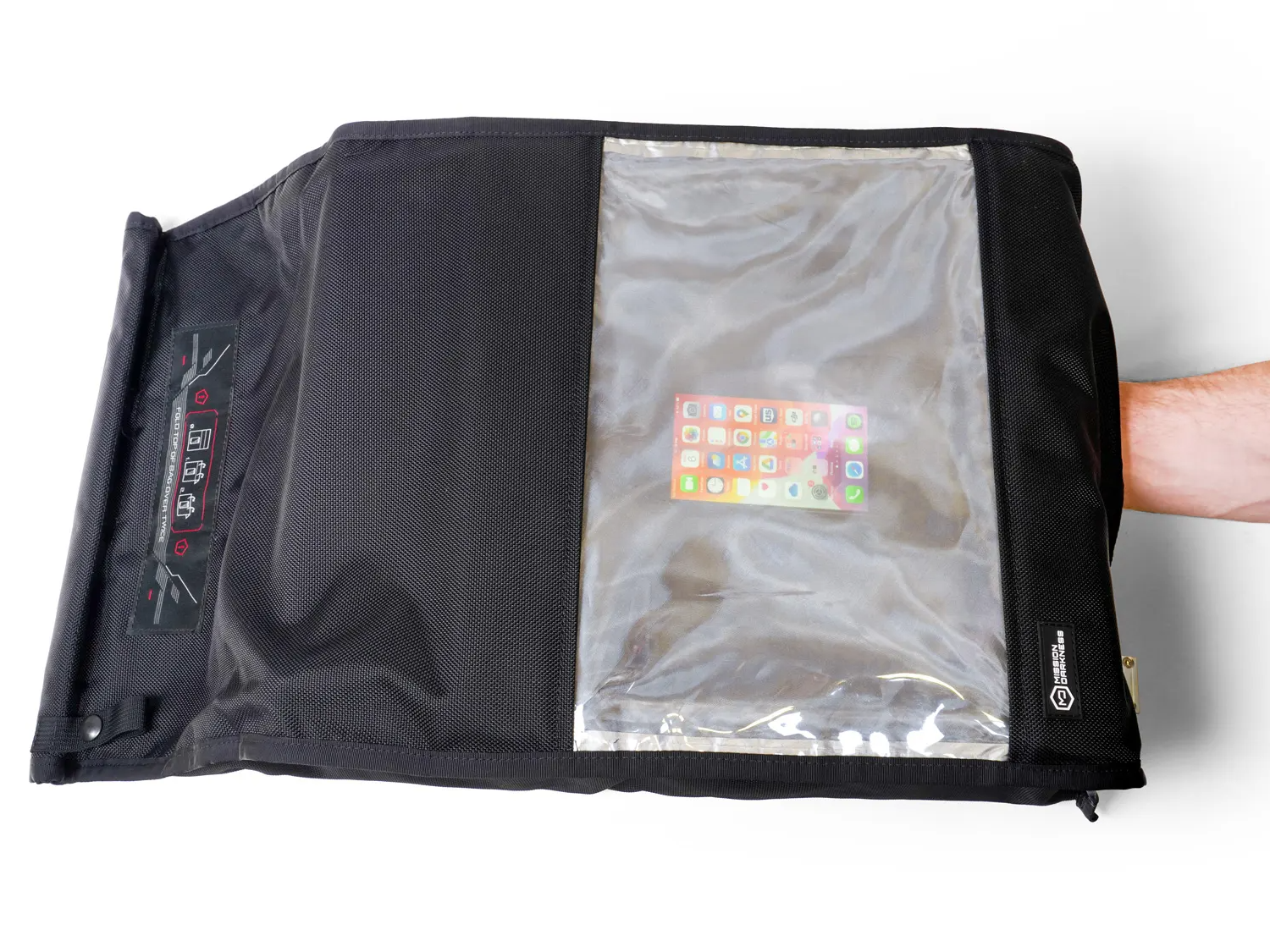 Exterior view showing a cell phone screen through the large shielded transparent window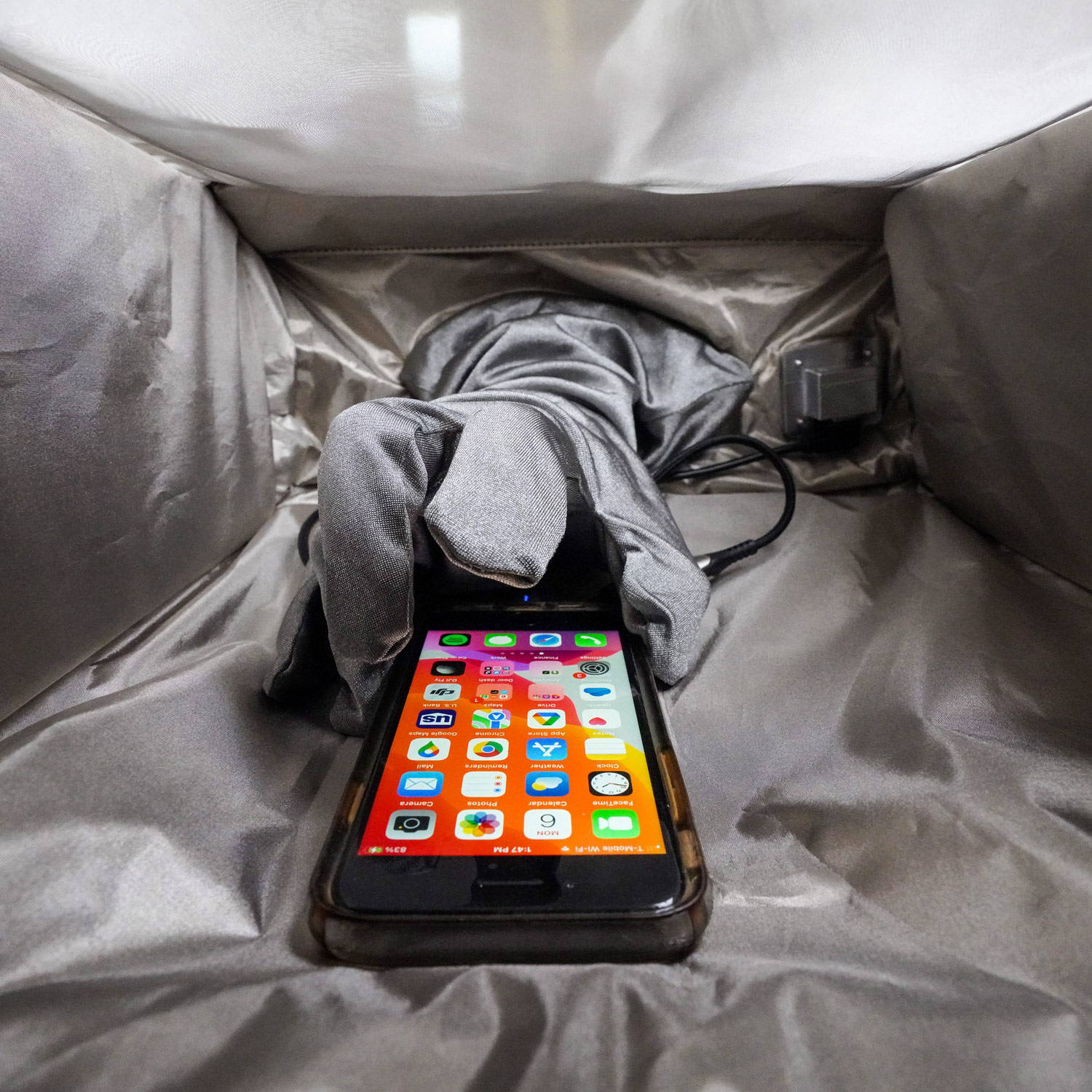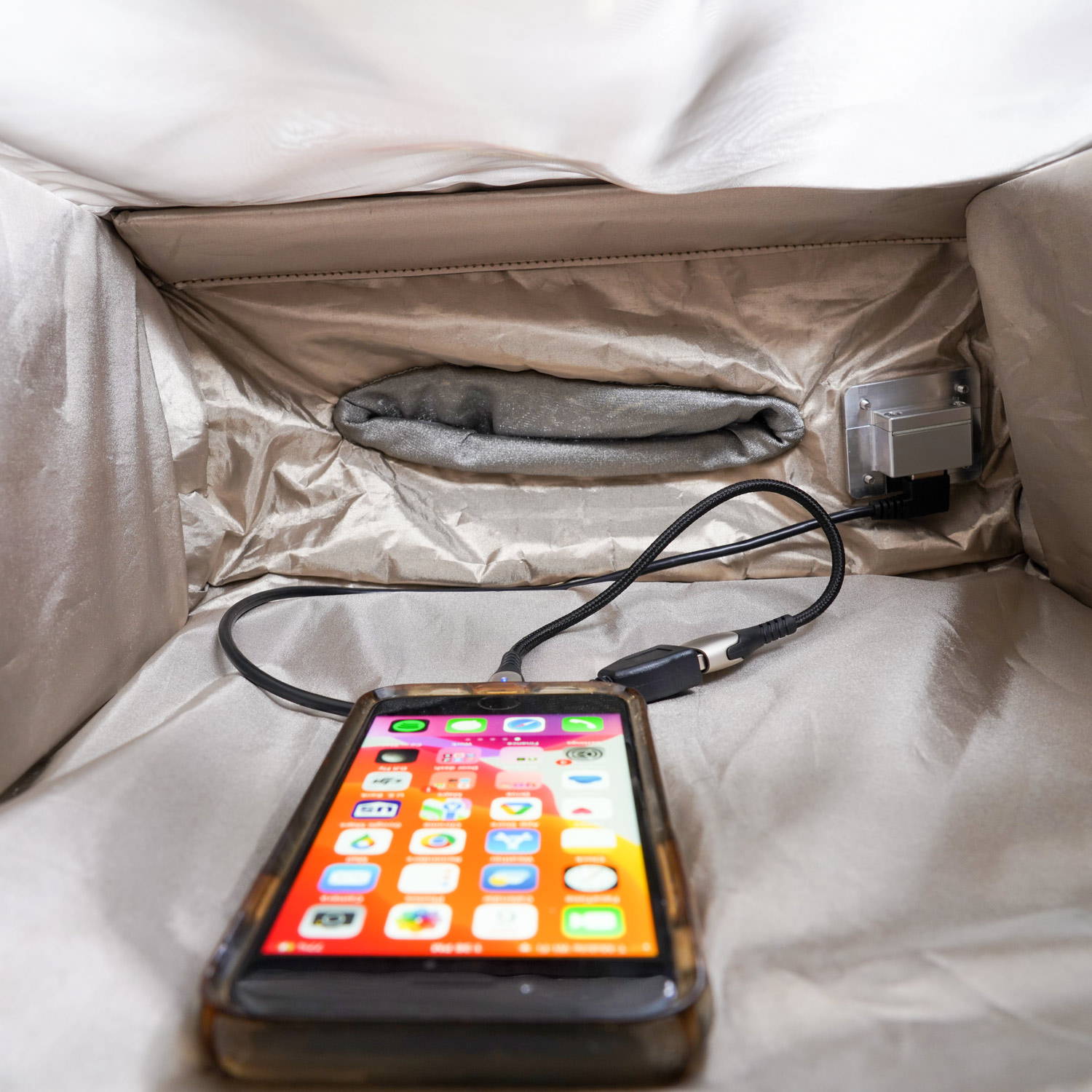 Interior view of the faraday chamber showing the device connected to the USB port and the shielded glove used for device operation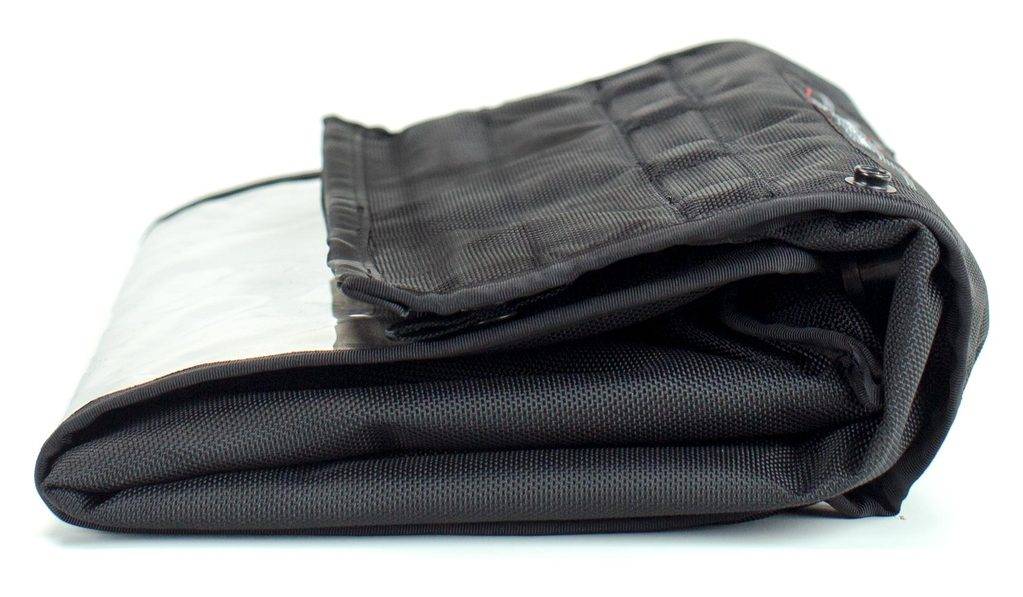 The padded side walls collapse to allow the analysis enclosure to fold into a compact size and fit inside the included carrying case
These accessories are often added to BlockBox Touch USB kit because they enable short term charging capabilities, which may be required during transportation or until the analysis enclosure can be connected to a long term power source. Simply add the accessory you want to your cart.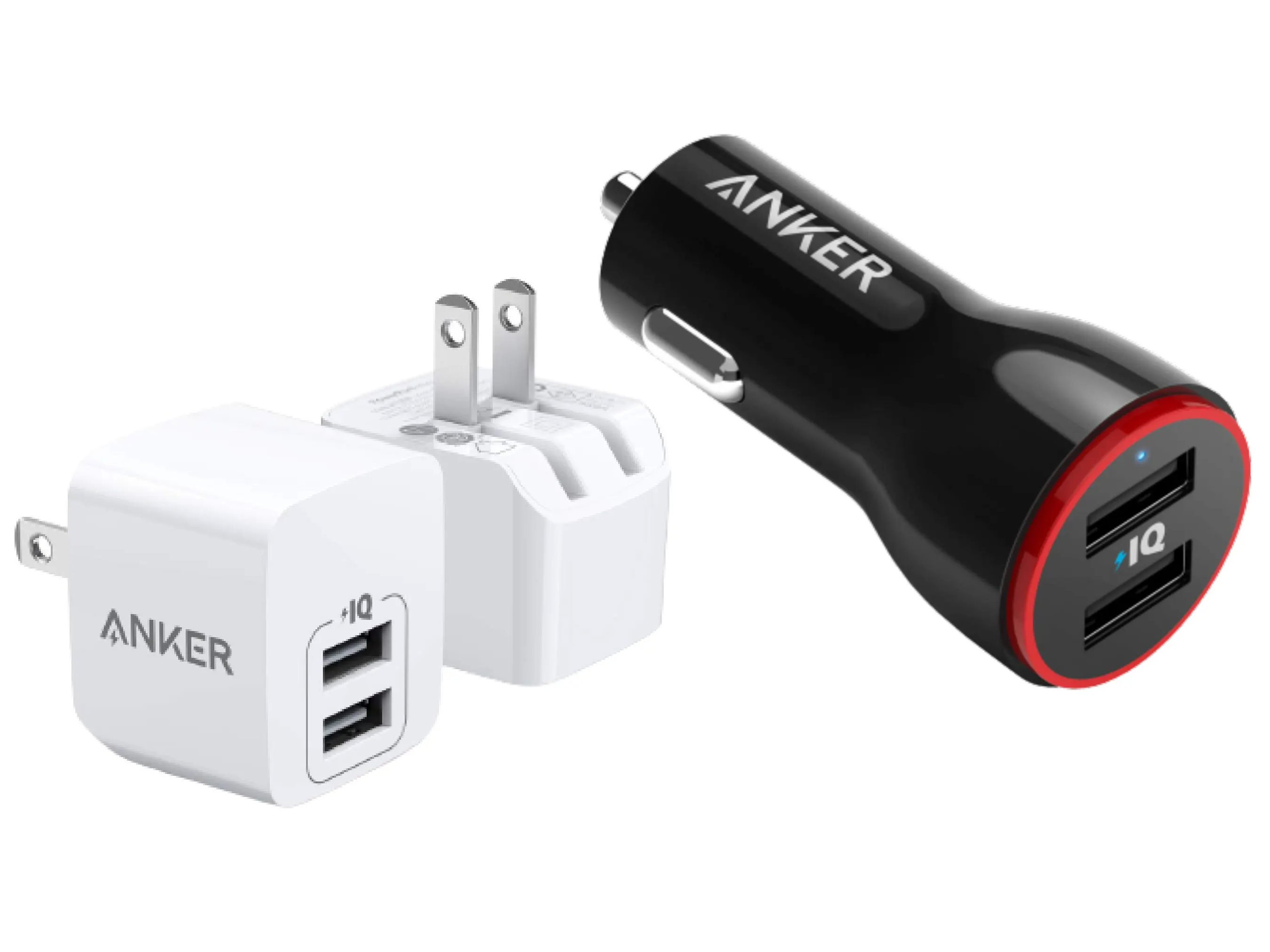 Allows devices to be charged in the car or at a wall outlet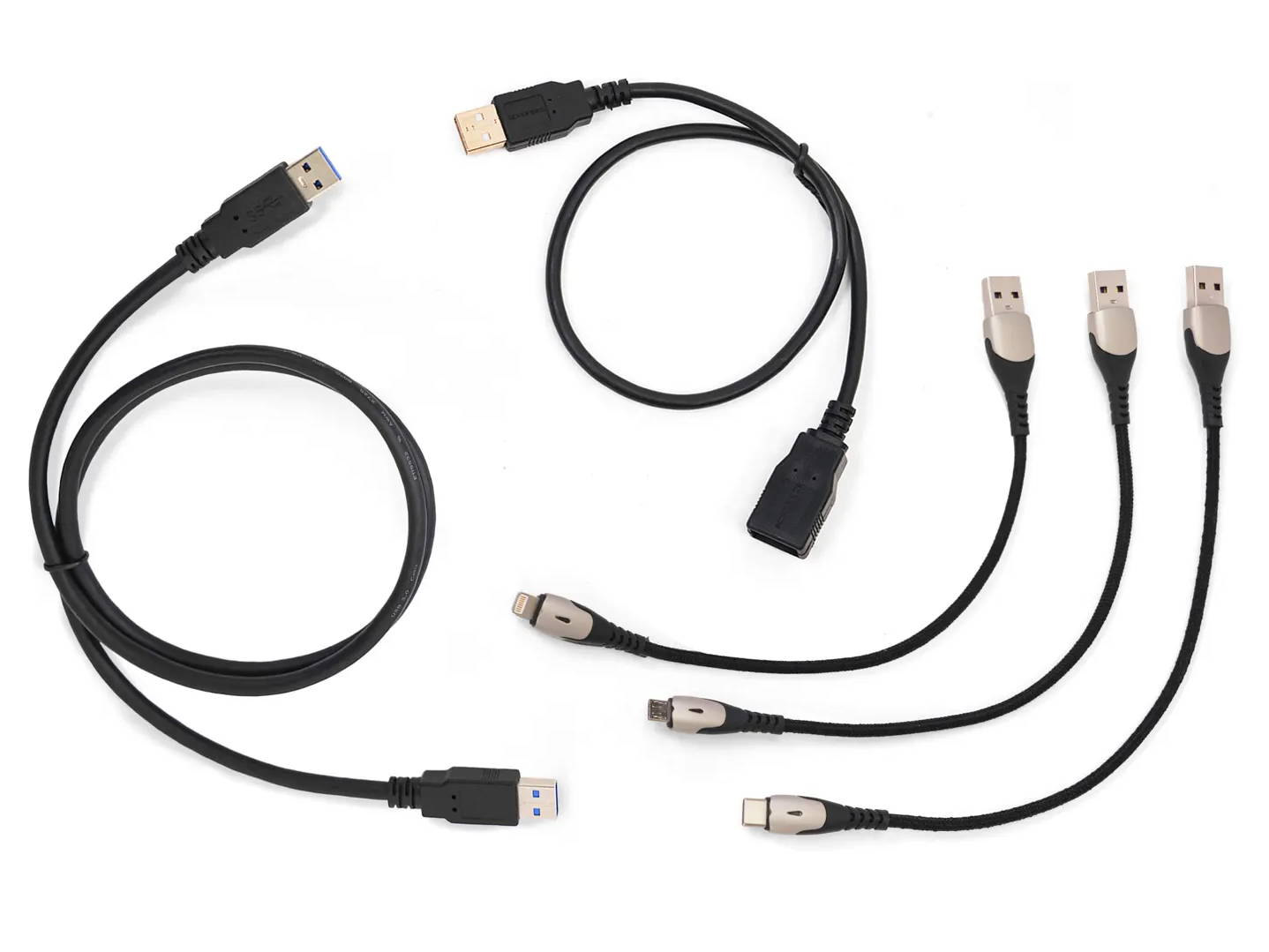 Variety of USB cables used for connecting devices to power banks, USB ports, and faraday bags with USB filters

*1 Cable Set is already included with the accessory kit
Allows devices to be powered instantly for days after seizure (offers around 3.6 smartphone charges)
Allows devices to be powered instantly for days after seizure (offers around 5.4 smartphone charges)
Customer Reviews
efficient, compact and good quality, complex handling of one-handed phones
Faraday pouch effective with current signals when some competitors have problems blocking Wifi, it blocks everything (I live in urban areas). Very compact and easy to store Features a convenient USB plug for charging iphones. Only one hand passes through the glove box and sometimes it is difficult to handle the phones with one hand. In addition, the USB plug muffles a lot and you need to take a short cable and a powerful charger to be able to charge the phones put in the pouch. Those who have room will look advantageously to the rigid top model and make it easier to handle the phones.
Keeps devices powered on with signals blocked
If you need to keep devices powered while blocking bluetooth, cell, wifi, and any other signals, this is the bag. I like how it folds up into a small pack for travel but it there is enough room inside to use as a lab box if you need it when it's expanded. That's a nice design. The USB passthrough definitely still blocks signals when it's connected (unlike another bag I tried with a USB block). My only gripe would be the glove, it's just a little annoying to operate devices all day every day but then again the kit does come with a stylus and the price point is very reasonable. If you need to operate devices and connect to USB at the same time this is going to be your best option.
Trusted product for operating and extracting smartphone info while shielded
I'm quite impressed with the BlockBox Touch USB. I had been searching for a transportable product with these particular capabilities, mainly a tool that would allow me to analyze and extract data from a smartphone while shielded. I've tested the Box multiple times now near high-powered WiFi and it blocked completely. I can interrogate devices and film the screen through the transparent window. USB port transfers data quickly, can also be used to charge. The entire Box collapses and folds into a condensed size small enough to fit in my briefcase, allowing me to travel with the kit and devices I'm working with.