Crystal Clear Organizer Shelf - Streamline Your Digital Workspace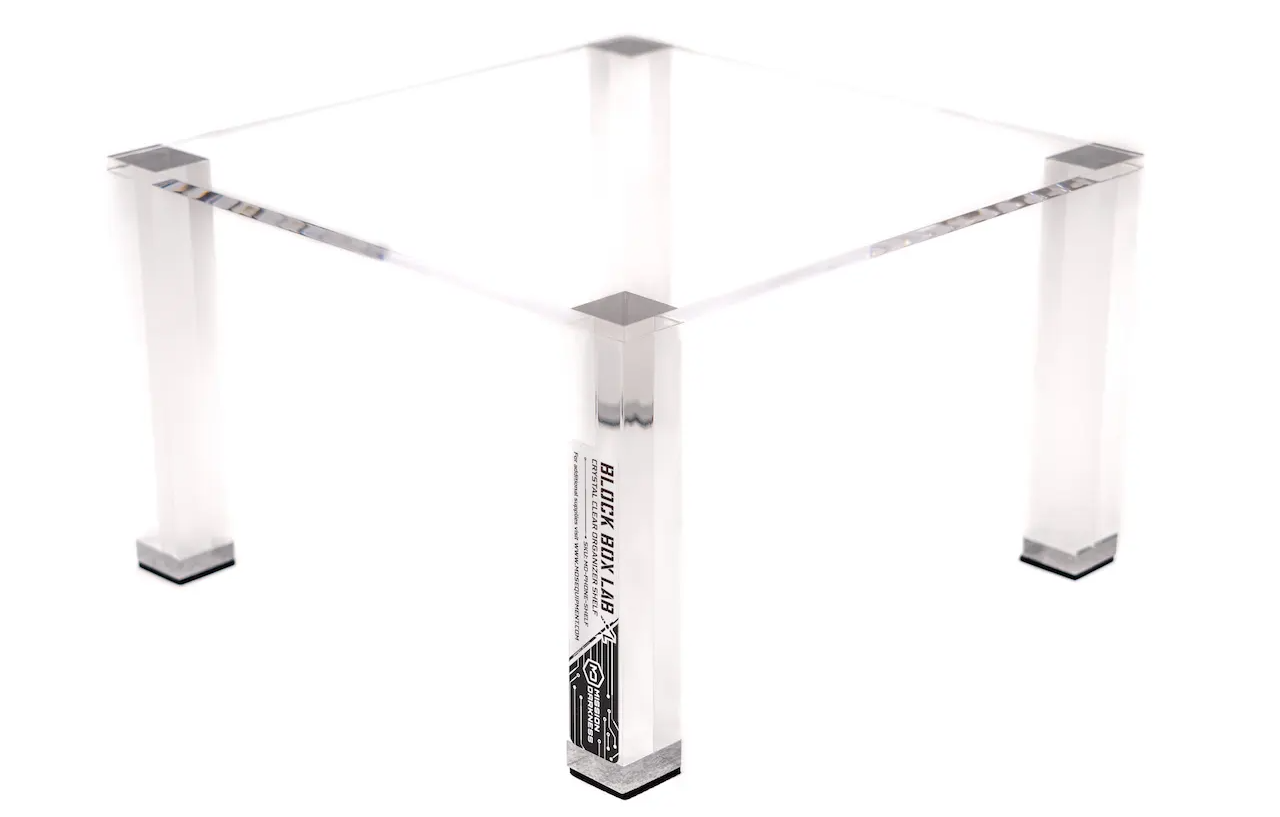 The Mission Darkness™ Crystal Clear Organizer Shelf is a practical solution designed for professionals who need clarity, order, and accessibility in their digital forensic environments. Crafted from premium, thick, transparent acrylic material, this shelf is more than a storage accessory — it's an upgrade to your workspace ecosystem.
Sturdy, Transparent Design: Constructed with high-grade, clear acrylic, this organizer shelf stands out for its resilience and transparency. Its robustness means it can handle the daily demands of a forensic professional's environment, while its clear structure provides a full view of the devices and tools it holds, ensuring you never lose sight of what's important.
Versatile Device Accommodation: Designed with compatibility in mind, the Crystal Clear Organizer Shelf integrates perfectly with the Mission Darkness Forensic Crystal Clear Phone Organizer. Place the phone organizer beneath for seamless cable and device storage or on top for easy device access and monitoring, arranging your workspace to suit your workflow.
Efficient Space Management: When housed inside a forensic box, like the MissionDarkness BlockBox Lab XL, the organizer shelf shows its true potential. By accommodating cables, forensic tools, and other peripherals underneath, it clears the way for an uncluttered workspace. Devices rest above, nearer to the preview window, facilitating efficient checks and procedures without the usual mess or fuss.
*While the Crystal Clear Organizer Shelf is specifically designed for integration with the BlockBox Lab XL, its versatile nature makes it an ideal addition to any forensic box or workspace in need of enhanced organization.
Transform your digital forensic operations with the Crystal Clear Organizer Shelf — clarity, durability, and organization, all in one clear solution.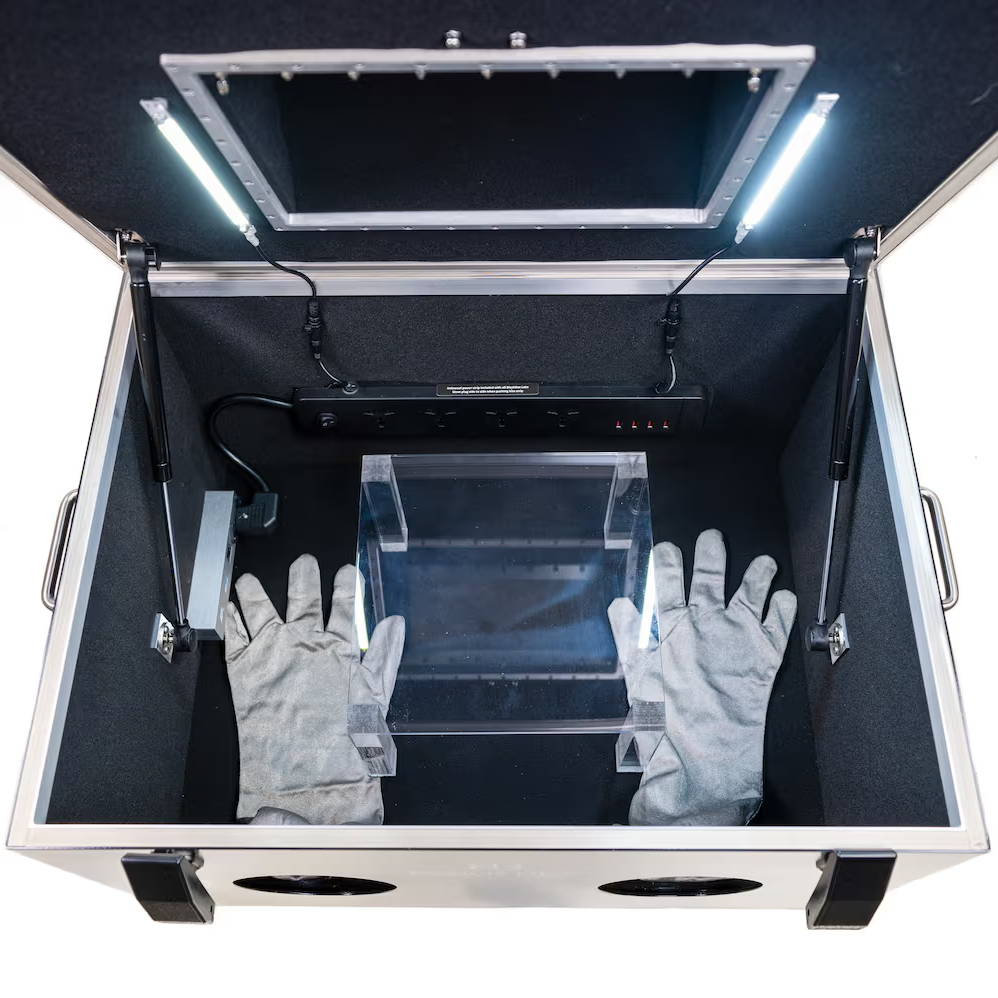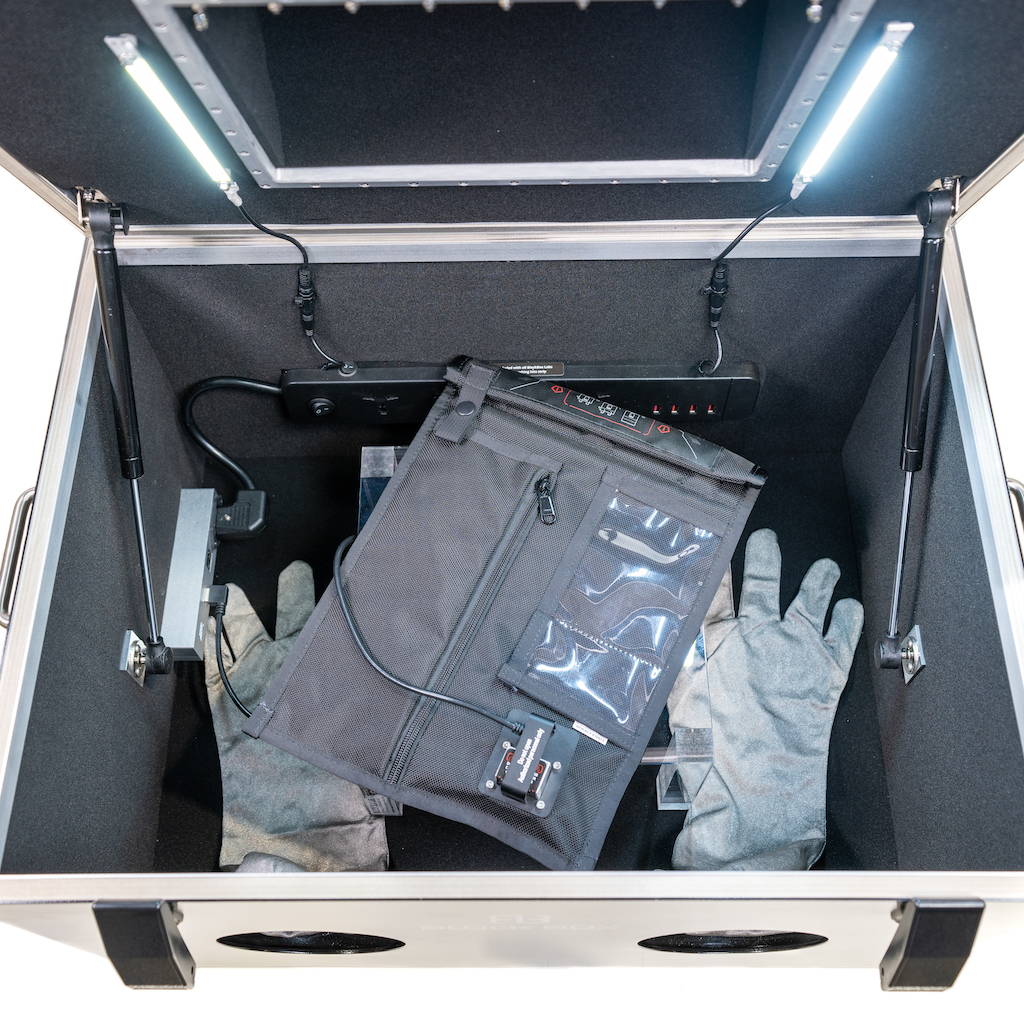 Images of the Crystal Clear Organizer Shelf inside the BlockBox Lab XL, a forensic box for interrogating mobile devices. The BlockBox Lab XL comes equipped with an acrylic organizer shelf plus a compatible phone organizer that can be arranged however the user prefers. The accessories improve space optimization, device screen visibility, and overall workflow.
Crystal Clear Organizer Shelf Features
Sturdy Acrylic Build: Reliable for frequent handling and everyday use, maintaining its clarity and shape.
Enhanced Compatibility: Specifically fashioned to couple with the Mission Darkness Forensic Crystal Clear Phone Organizer for a harmonious, organized setup. Strong enough to support the weight of laptops being used/interrogated.
Cable Clutter Solution: Offers ample space underneath to tuck away cables and forensic tools, keeping them accessible yet out of your immediate workspace.
Workspace Optimization: By elevating devices and tools, it makes the most of the forensic box environment, positioning your work conveniently within reach and sight.
Transparent Design: Keep an eye on device screens effortlessly. The transparent material allows the user to see contents underneath and view device status.
Padded Feet: Equipped with soft padded feet, this stand ensures a non-slip grip on surfaces, maintaining its position with steadfast stability. This also prevents conductive gloves or other sensitive materials from snagging or sustaining damage on the feet corners.
Unobtrusive Yet Distinguished: It blends seamlessly into your workspace, providing reliability without clamoring for attention. Its subtle elegance and superior functionality set it apart in a market of less refined alternatives.
External dimensions: 10" L x 10" W x 6" H

Leg dimensions: 1" L x 1" W x 6" H
Ideal for digital forensic labs, law enforcement agencies, and IT professionals, the Crystal Clear Organizer Shelf is particularly effective in high-intensity environments where space is at a premium, and organization is key. It's not just about storing your tools; it's about streamlining your process, making your workspace work for you. It doesn't come with bells and whistles because it doesn't need them. It's the silent partner in your investigative process, making your job a little bit easier, one device at a time.
The Crystal Clear Organizer Shelf is compatible with forensic boxes and laboratory or desk setups with limited space. This is the same item included with the Mission Darkness BlockBox Lab XL.
The organizer shelf pairs seamlessly with the Mission Darkness Forensic Crystal Clear Phone Organizer, constructed with identical high-grade clear acrylic material. The shelf is tailored to host the phone organizer either as a stable base or neatly tucked underneath, presenting enhanced organizational capacity and spatial finesse.
Elevate your arrangement by stacking various organizer shelves interspersed with phone organizers, crafting a vertical charging oasis that champions both visibility and optimized space utilization. This sophisticated system not only streamlines your device management but also transforms your work area into a hub of efficiency and order.