PLEASE NOTE: Current lead time is 1-3 weeks.
Operate and Interrogate Devices While Shielded from RF Signals

The Mission Darkness™ BlockBox Touch provides a way to operate and view touch screen devices while remaining shielded from RF signals. The collapsible faraday enclosure includes a built-in double layer conductive glove, large interior space, and transparent device preview window allowing the operator to interrogate devices and access data on-scene. Designed specifically for law enforcement and military forensic investigators, the BlockBox Touch allows users to conduct cell phone and tablet analysis while keeping devices shielded inside. The enclosure is easy to use, extremely high-shielding, and large enough to accommodate other accessories like batteries or data extraction tools.
The BlockBox Touch is built with padded side walls and water-resistant ballistic nylon outer material to ensure that devices and faraday fabric stay protected. The interior faraday chamber includes two layers of high-shielding TitanRF™ Faraday Fabric on all sides with dual paired seam construction. The faraday chamber will block all wireless signals including WiFi (2.4 & 5GHz), Bluetooth, cell signals including 5G networks, GPS, RFID, NFC, and radio signals from low MHz to 40GHz. Additional product features include a patented NeoLok™ magnetic closure, unique serial number, and transparent branding pocket.
The NeoLok closure system uses a double roll and strong neodymium magnetic seal holding the roll in place. A quick-snap strap over the roll provides extra security, which is especially useful if transporting shielded devices inside to various locations, such as from the collection site to the lab. This type of closure is preferred for forensic use since the faraday chamber can be opened easily with a glove. The magnetic closure increases the product's overall longevity, compared to faraday enclosures built with harsh Velcro closures which can damage gloves and wear out with frequent use due to "hard pulling" on the closure area.
The kit includes usage instructions, a signal-dampening foam block (which provides a platform to take photos of devices, as well as additional shielding in high-signal strength environments), a stylus, and a slim carrying case to hold the accessories and collapsed BlockBox Touch. The kit can be transported in a backpack or small bag, making it the perfect analysis enclosure for lab and field operations.
Military-grade soft-sided analysis enclosure designed for law enforcement forensic investigators and armed services to operate and interrogate devices at any location while shielded from RF signals
Built-in double layer conductive glove allows shielded touch screen device operation
Large opening accommodates any size tablet, cell phone, or similar size device
Large transparent window for viewing devices
Two layers of high-shielding TitanRF Faraday Fabric on all interior sides with dual paired seam construction (TitanRF Faraday Fabric is lab tested and certified to shielding effectiveness standards MIL STD 188-125 and IEEE 299-2006)
Blocks WiFi (2.4 & 5GHz), Bluetooth, cell signals including 5G networks, GPS, RFID, NFC, and radio signals from low MHz to 40GHz

EMI, EMR, and EMF shielding

Patented NeoLok closure system consisting of a double roll with a magnetic seal, plus additional quick-snap closure strap for ultimate security and signal blockage

Water-resistant ballistic nylon outer materials

Collapses into a compact size and comes with a slim carrying case
Devices can remain shielded inside the closed faraday chamber during transport

Closable transparent pocket on back to place company information

Removable signal-dampening foam block (for increased shielding in high-signal-strength environments, also serves as a platform for analyzing or taking photos of devices inside)
Unique serial number for asset tracking
Made in the USA
Easily Add Department/Agency Info

Mission Darkness™ faraday bags and BlockBox Touch analysis enclosures have a transparent pocket on the back to place a business card or more permanent sticker. There is no need to silkscreen your department information on the bag. If you would like a permanent way to custom brand items, we can add woven labels during production. Please contact us to discuss options.
Components Included in Each Kit

Mission Darkness BlockBox Touch
Slim carrying case with a handle and two interior zipper pockets
Signal-dampening foam block
Branding and evidence card pocket
Unique serial number card
Stylus
Usage instructions
If charging is required, consider add-ons like the Vigilant Volt Forensic Data Preserving Power Bank and a Cable Set, or upgrading to the BlockBox Touch USB which includes a USB filter and Cable Set.
Collapses and Fits in Carrying Case

The BlockBox Touch side walls collapse, and the enclosure folds into a compact size and fits inside the included carrying case. The carrying case has mesh zipper pockets to hold accessories and usage instructions.
Internal usable dimensions: 17" x 13" x 6"
Carrying case measures 11" x 14" x 2" when packed with collapsed product and accessories
Lab forensic analysis
State, local, federal, and military forensics
Military grab-and-go missions
Federal search and seizure warrants
Anti-hacking, anti-tracking, and anti-spying assurance
Counter-surveillance
EMP and CME protection
Mobile device testing
Signal isolation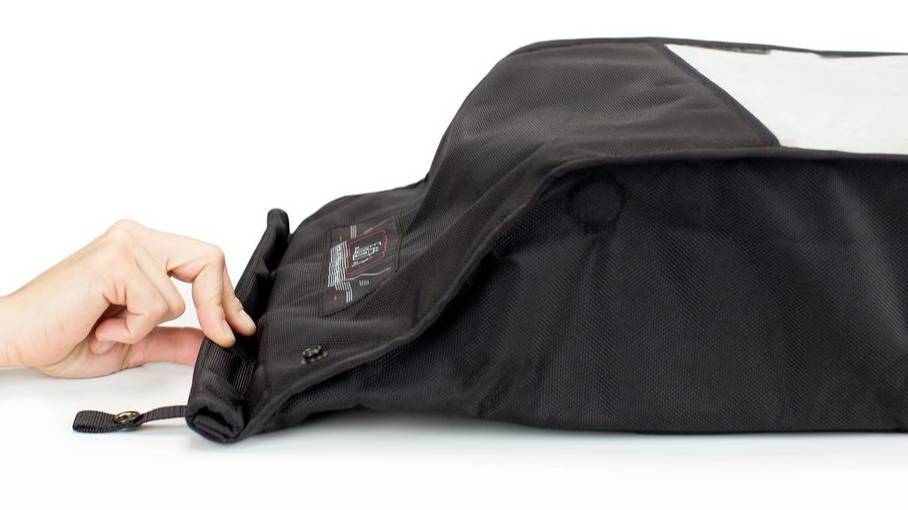 NeoLok magnetic closure is safe to use with conductive gloves, effective at blocking signal, and lasts longer than Velcro seals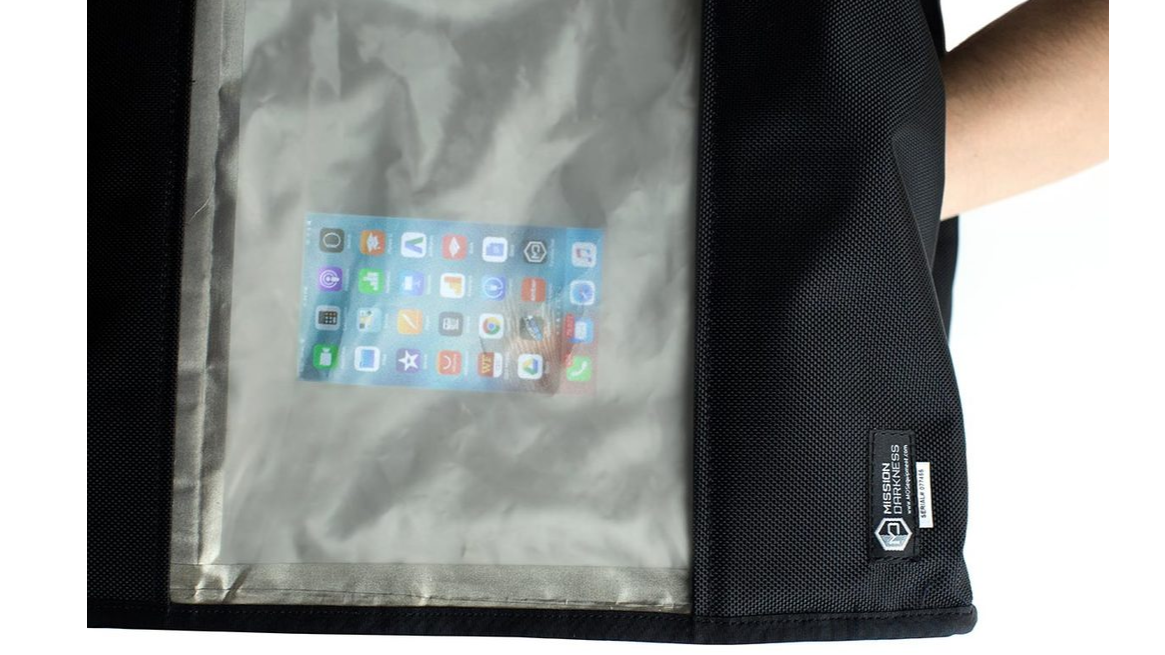 The user can view device screens through the large shielded transparent window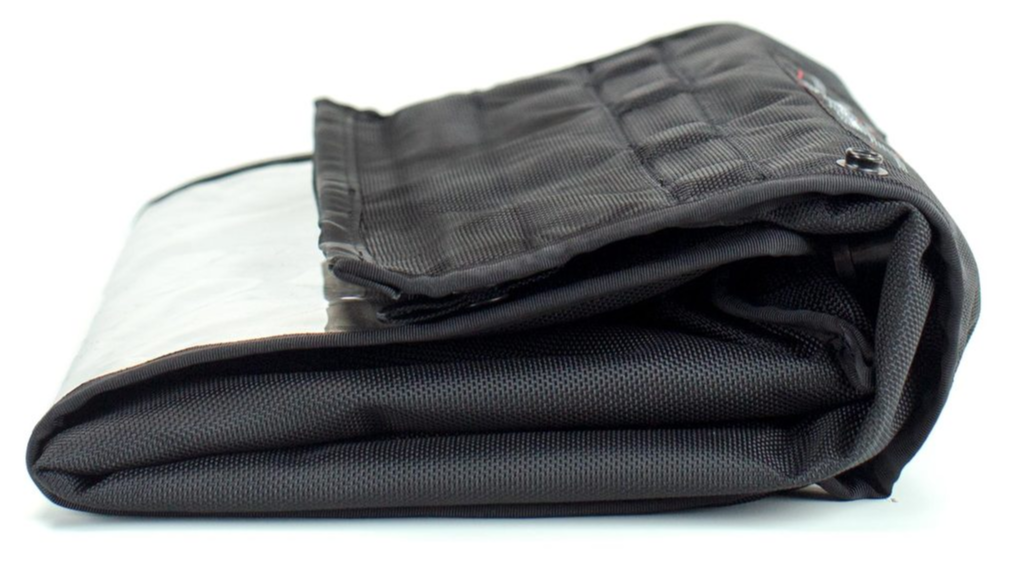 The side walls collapse, allowing the product to fold into a compact and slim size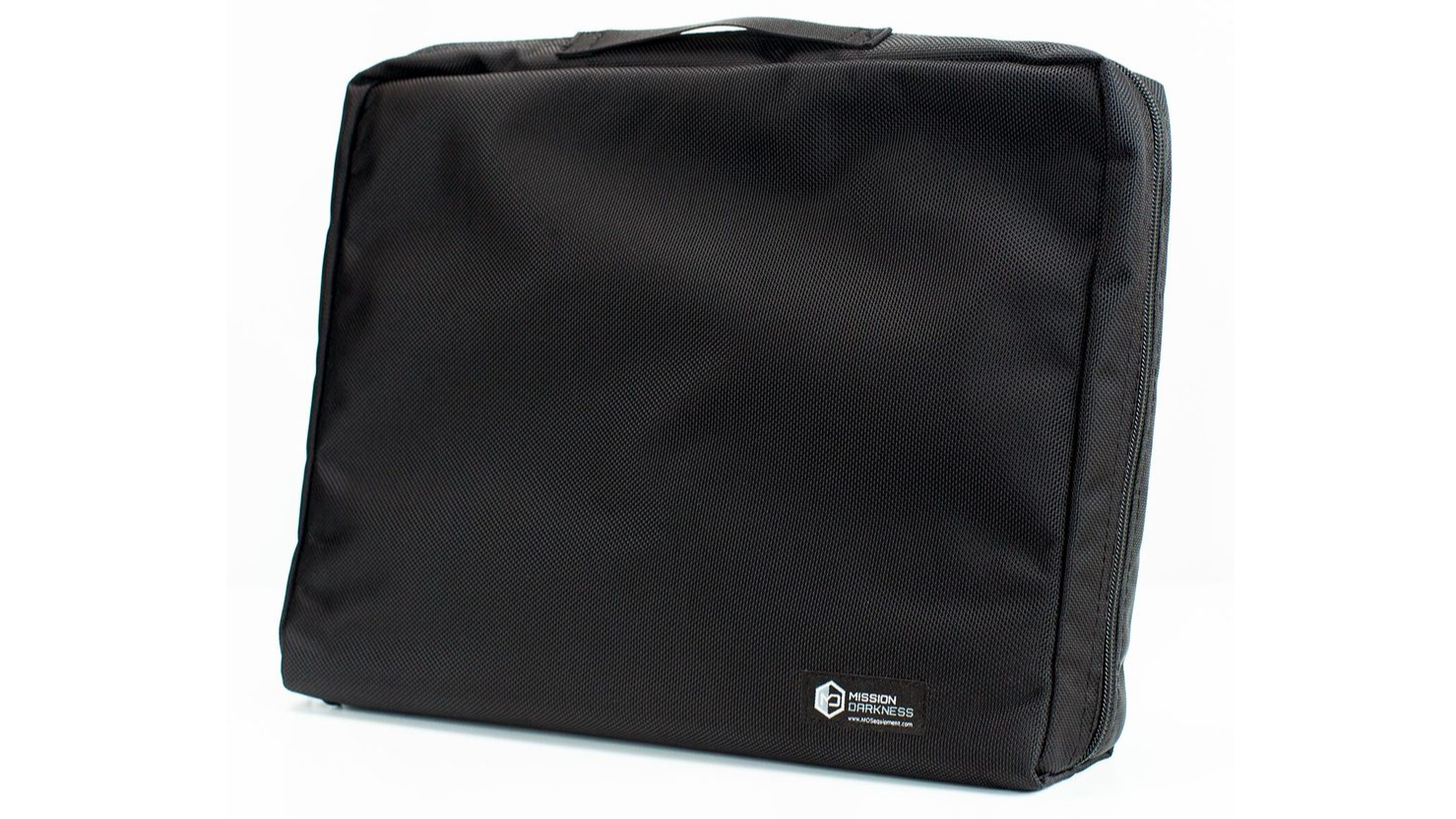 The BlockBox Touch plus accompanying accessories fit inside the included carrying case