Please Note: 1-2 Week Lead Time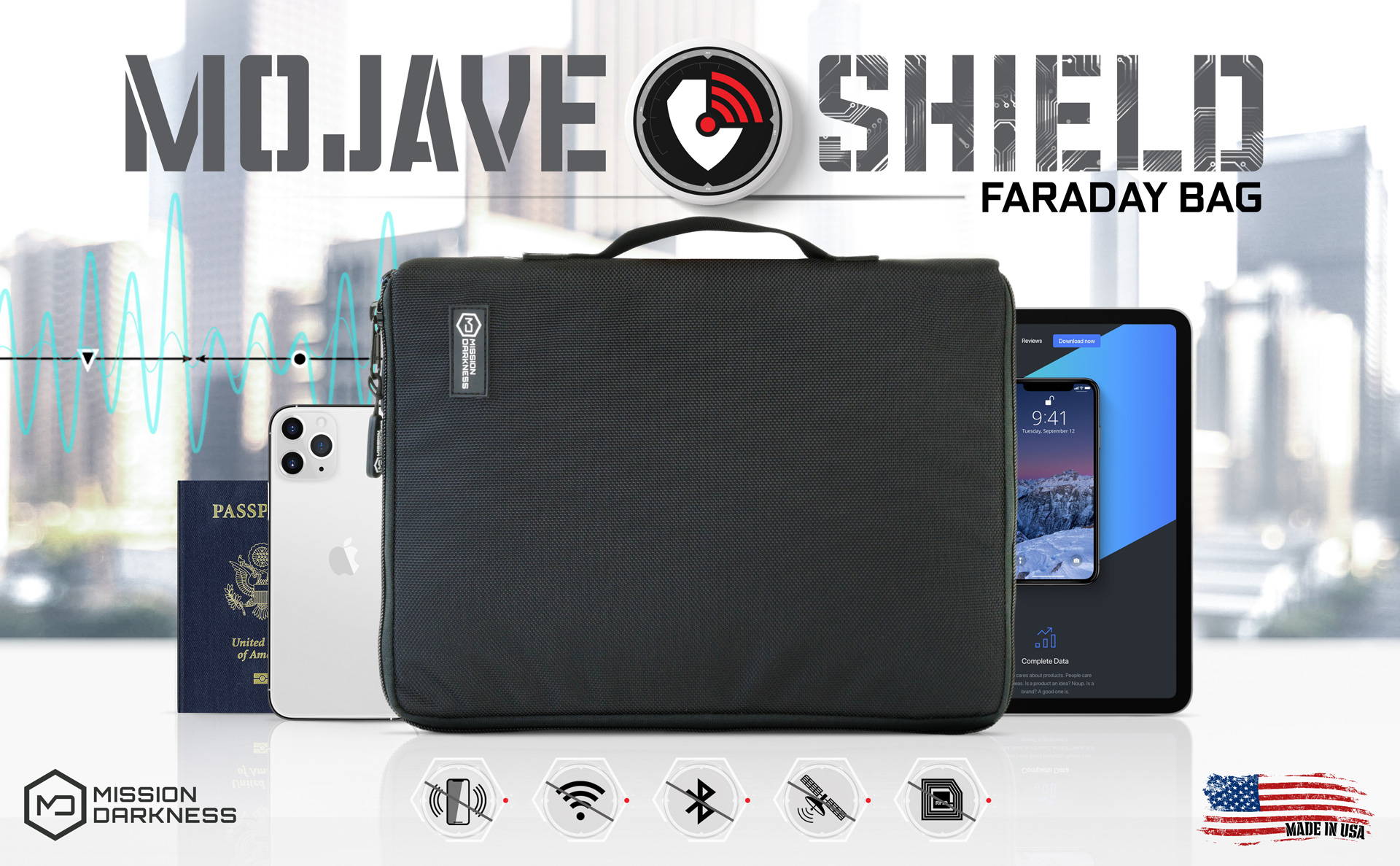 Mojave Series Travel Case with Built-in Faraday Sleeve for Tablets

The Mission Darkness™ Mojave Faraday Tablet Bag is a multi-functional travel bag with a built-in faraday sleeve specifically designed for shielding electronic devices from RF signals and storing frequently used accessories, all in one sleek case. Most faraday bags or cages are only designed for their primary function, which is isolating devices, but the Mojave Faraday Tablet Bag offers built-in features and accessory pockets so that all you need is the covert case for daily use and travel.
The slim size and top handle allows you to carry the case with you or easily store it in a larger bag or backpack, while offering a solution for keeping your frequently used everyday items organized in one place. The case unzips and folds open showcasing a faraday sleeve on one side, and unshielded accessory compartments on the opposite side. The faraday sleeve is constructed with two internal layers of high-shielding TitanRF™ Faraday Fabric with dual paired seam construction, providing complete signal isolation for electronic devices enclosed inside. The faraday compartment is large enough to all consumer size tablets and eReaders, multiple cell phones, and similar size devices. Accessory compartments include a document size pocket and two smaller mesh zipper pockets, plus an elastic band for holding a pen or keys in place, all together the perfect solution for keeping items such as your wallet, keychain, charger, passport, earphones, or additional accessories organized and easily accessible. The separate sections allows you to keep devices shielded from RF signals in the faraday sleeve while accessing items in additional compartments. Outer case padding offers physical protection for the items carried inside.
The Mojave Faraday Tablet Bag ensures that your tablet or mobile device cannot be communicated with when enclosed in faraday sleeve compartment, blocking hacking, tracking, remote accessing of the camera and microphone, and data copying or corruption. The deluxe enclosure system is often used to protect digital privacy and personal data during airport travel, commuting, in busy locations, etc.
---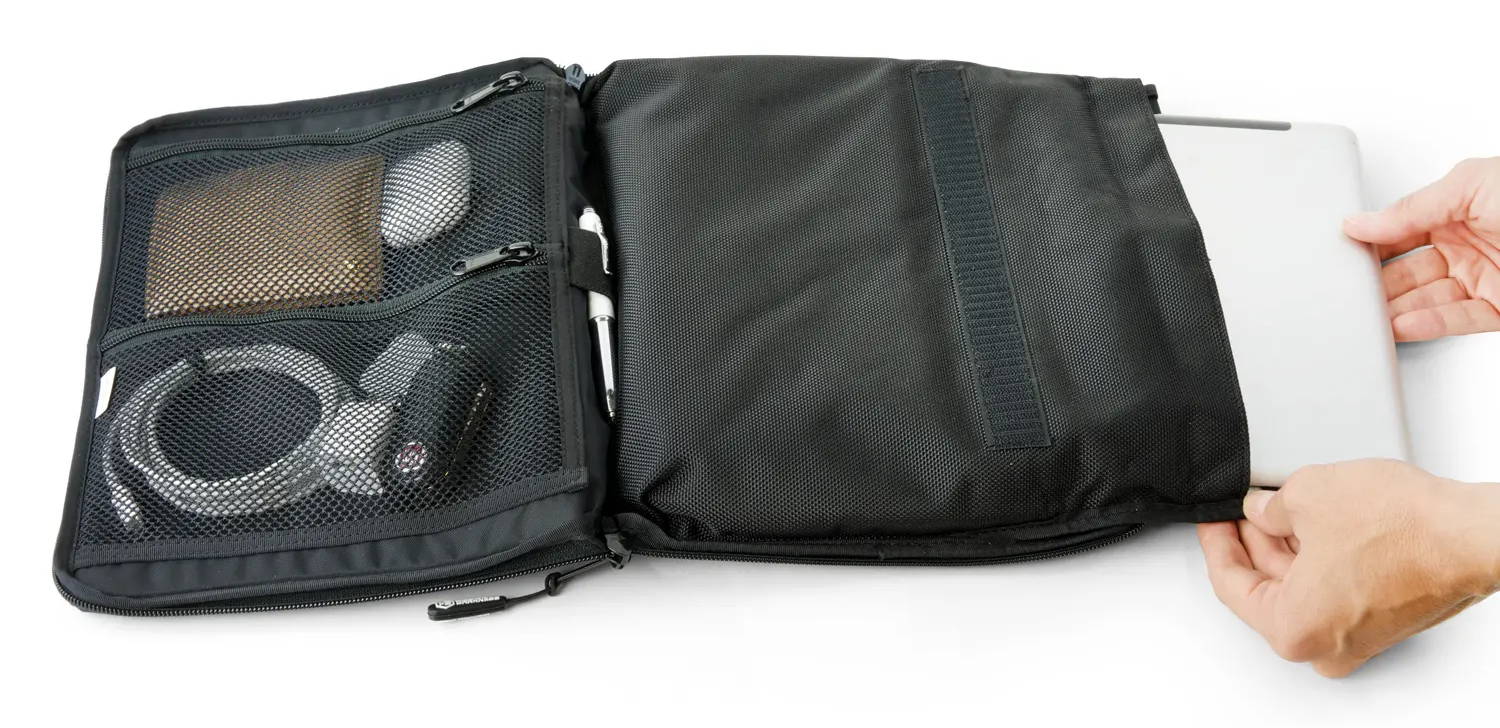 ---
Multi-functional travel case with accessory pockets and built-in faraday sleeve for shielding electronic devices from RF signals
Built-in faraday sleeve fits most consumer tablets, eReaders, multiple cell phones, and similar size devices
Faraday sleeve compartment is made with two layers of high-shielding TitanRF Faraday Fabric on all interior sides with dual paired seam construction

(

TitanRF Faraday Fabric

is lab tested and certified to shielding effectiveness standards

MIL STD 188-125

and

IEEE 299-2006

)

Faraday sleeve blocks WiFi (2.4 & 5GHz), Bluetooth, cell signals including 5G networks, GPS, RFID, NFC, and radio signals from low MHz all the way up to 40GHz
EMI, EMR, and EMF shielding
Faraday sleeve closes via secure double roll and Velcro seal

Case in constructed with water-resistant ballistic nylon outer materials with zipper closure

Padded and flexible shell
Two mesh zipper pockets for holding accessories -- each measuring 8" x 4.5"
Open notebook size pocket -- measuring 7.5" x 10.5"
Top handle for easy carry
Elastic ring for pen holder or keyring attachment

Unique serial number for asset tracking

Made in the USA

SKU: MDFB-M-MS
Tablets
eReaders
GPS units
Transponders
Multiple cell phones
Passports
Keyfobs
Personal device data security and digital privacy
State, local, federal, and military forensics
Executive and plain-clothes operator travel
Anti-hacking, anti-tracking, and anti-spying assurance

Secure facilities device management and compliance

Counter-surveillance

EMP and CME protection
EMF reduction
F

araday sleeve compartment internal dimensions (tablet/device must fit inside these dimensions): 7.5" x 10.5" x 0.75"
*NOTE: The faraday sleeve is the only shielded section; the other accessory pockets are unshielded

Closed case outer dimensions: 12.5" x 9.25" x 1.5"

Universal fit for most tablet models
---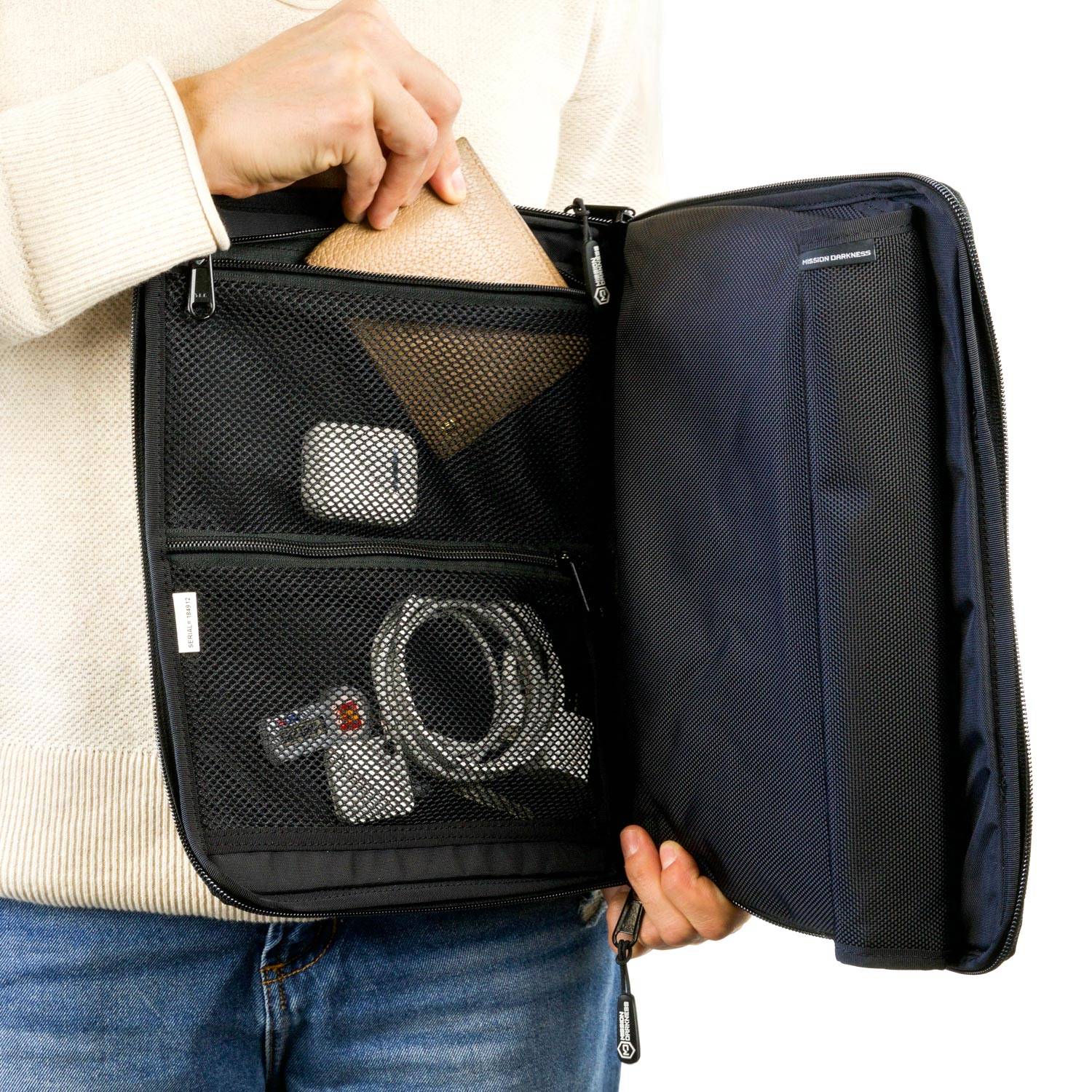 The case includes two wide accessory pockets each measuring 8" x 4.5"
A large open pocket underneath the faraday sleeve measures 7.5" x 10.5"
---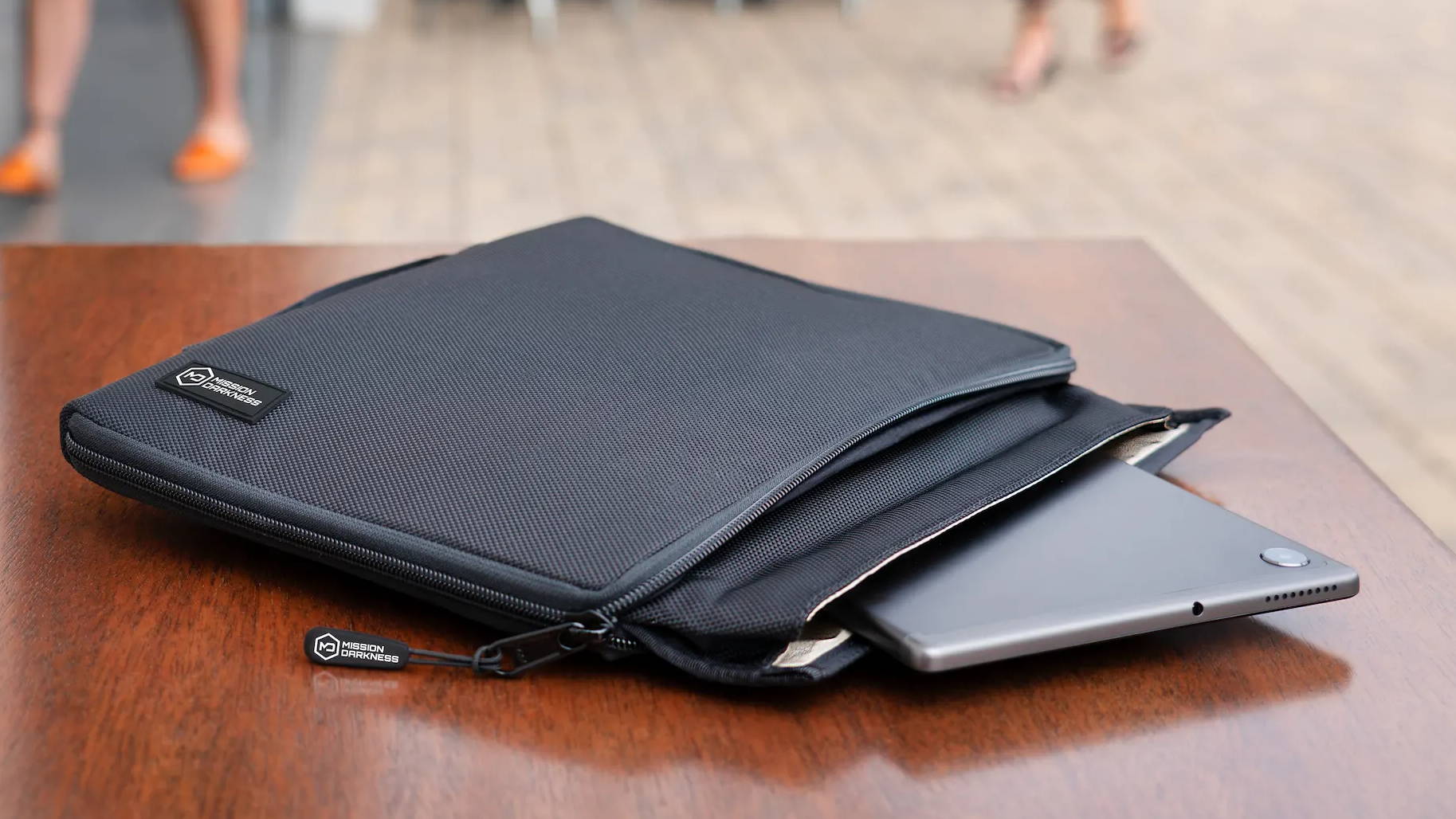 ---
1) Place device inside faraday sleeve compartment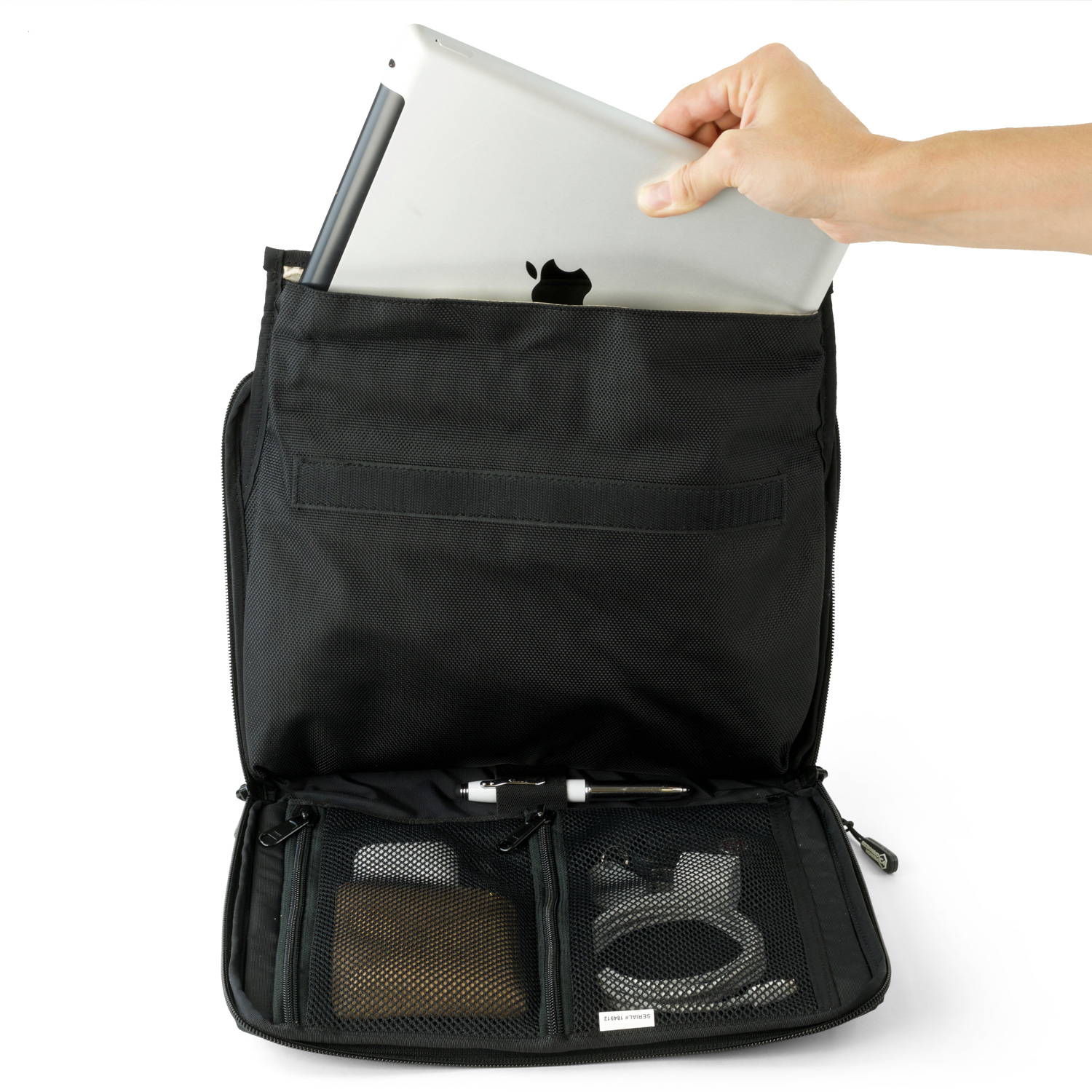 2) Close the faraday compartment via secure double roll + Velcro seal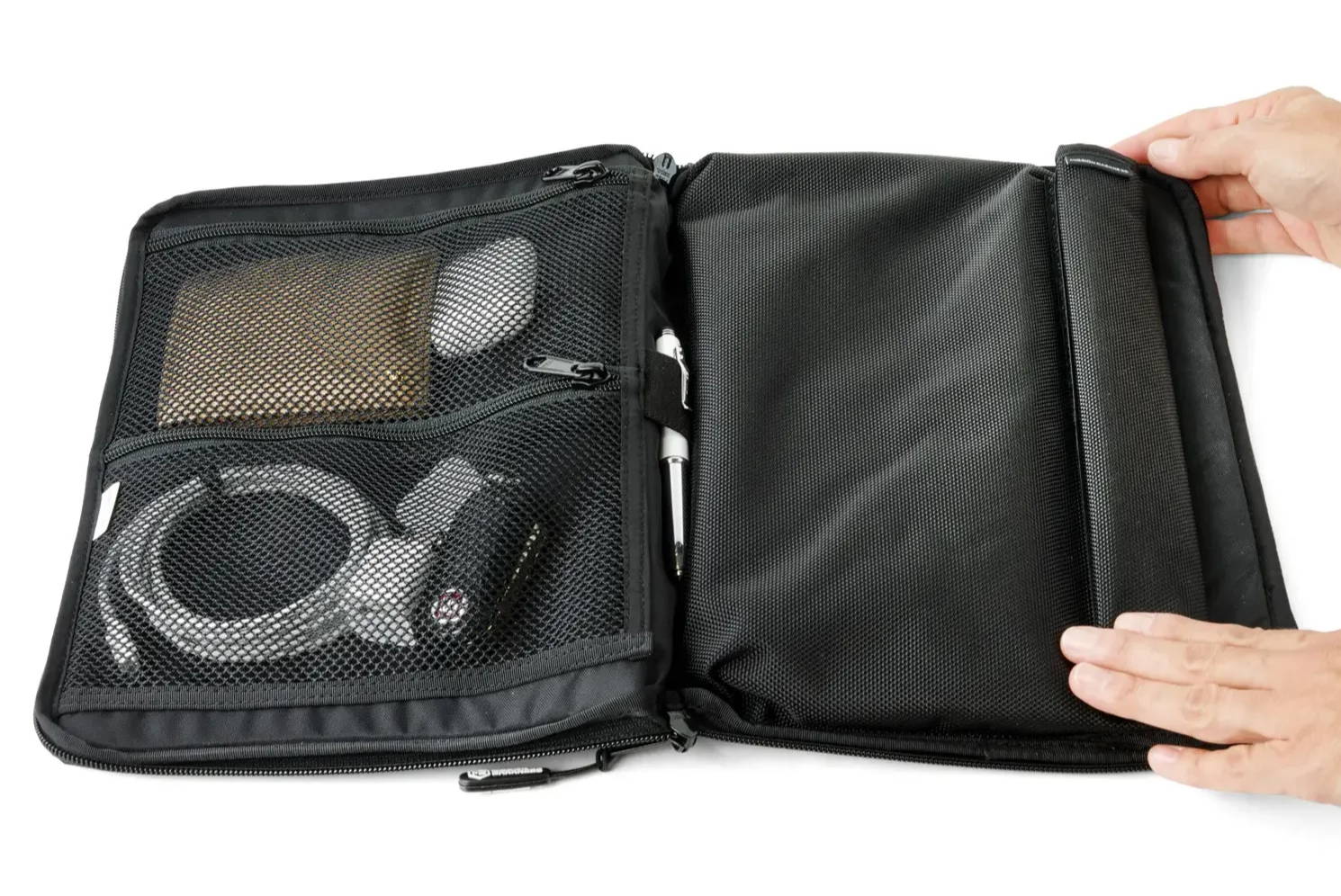 3) Zip the outer case closed

* Contents inside stay shielded and organized during travel
---